MARC

bypasses county for funding selection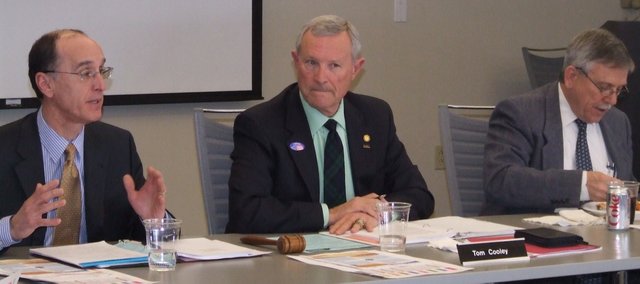 The Mid-America Regional Council has $24 million to give to its members as part of President Barack Obama's American Recovery and Reinvestment Act.
But Leavenworth County won't see a dime.
A spokesperson said the MARC Board voted in favor of accepting the recommendations from the council's Kansas Surface Transportation Program/Bridge Priorities Committee.
"We got skunked," Mike Yanez said about MARC's plan to divide the money among projects in Wyandotte and Johnson Counties. "I'm disappointed that local projects that met all the criteria were passed up and that there was not any kind of formula used to distribute the money equitably throughout the MARC region."
The council is made up of nine counties and 120 cities in Kansas and Missouri.
Of the 119 projects submitted, the committee chose 15 to receive full or partial funding.
The chosen projects included: $5 million in partial funding for improvements on State Avenue in Kansas City, Kan.; $3.5 million to fully fund construction on 127th Street from Mur-Len to Black Bob in Olathe; $444,000 to fully fund rebuilding north 138th Street in Bonner Springs; and $775,000 for an interchange at Interstate 435 and Woodend Road in Edwardsville.
During Monday night's city council meeting, councilmember Jason Ward voiced his disapproval of the committee's decision.
"Obviously there are a lot folks that presented projects and there are a lot of working projects, but that doesn't mean that the Mid-American Regional Council could not have spread out that money out a little bit better and maybe not have funded other projects at the 100 percent level," he said.
Before the committee met Feb. 25 to determine which projects would be funded, it evaluated the projects based on different factors like travel volume, safety, economic impact and which projects could start in 90 days. Each project was given a total score out of 100. The committee also took into account if a city or area were economically distressed. If the city or area were considered to be economically distressed, the project was awarded six bonus points.
Ron Achelpohl, assistant director of transportation for MARC, said the City of Leavenworth was the only entity within the county that was considered economically distressed, based on factors such as household income and unemployment rates.
Leavenworth's project to repave and rehabilitate U.S. Highway 73 and Kansas Highway 92 for $2.3 million was given a score of 60 and ranked 12th on the list. Tonganoxie's project submittal for $321,000 to replace the Pleasant Street bridge was ranked 17th with 56 points.
Leavenworth County Commissioner John Flower said he wasn't surprised by the committee's recommendations.
"Let's put it this way, we had a couple of projects that were high point getters, but when you put them against other high point getters that have a higher (traffic) density it's pretty easy to figure out which ones they are going to do," he said.
The County's projects included overlay work on County Road 9 for $750,000, which was ranked 67th with 36 points and the bridge over Stranger Creek for $2.2 million was ranked 73rd with 33 points.
Before MARC made its final decisions on which projects to fund, representatives from Leavenworth County made a final push for the board to consider their projects.
Municipalities within the county singed a joint resolution supporting local projects in getting some of the stimulus money.
But even though that attempt failed there will still be $11 million from the Kansas Department of Transportation's portion of the stimulus money the county may be able to tap into for work, such as bridge repair.
Yanez said city staff is already starting on the paperwork to get the Pleasant Street project submitted for those funds.
"It's the only thing that has a glimmer of hope," Yanez said about the bridge project.