Community sale to benefit art programs in local schools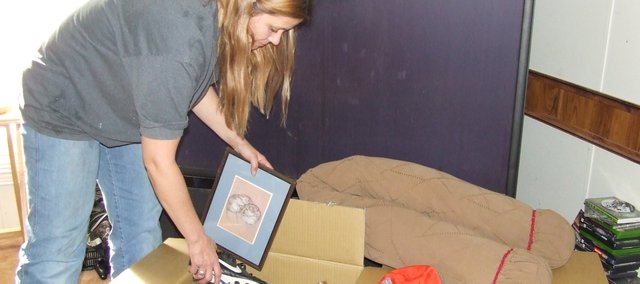 When Lesli Trout heard that there was a possibility the art program's budget at her child's school would be reduced next year to nearly nothing, she was concerned.
The Edwardsville resident said the recession was affecting everyone, but she hated the idea that students would be the ones hurt. So she decided to do something about it and is planning to raise money for the art, music and physical education programs at the three elementary schools in USD 204.
"Art is a necessity for me," Trout said. "Students sit in class all day with hard classes like math and English, and they look forward to classes like art and PE. It's somewhat of an escape or a break for them, and I don't want them to lose that."
Using the nonprofit organization Project Samaritan, which she started for another local cause, Trout has organized a community garage sale from 9 a.m. to 5 p.m. Saturday, March 14, at the Edwardsville Community Center.
Trout got the idea from Clark Middle School when it had a similar fundraiser years ago that Trout said was extremely successful. She is hoping that by doing a garage sale in March, she will catch people who have started spring-cleaning before they have a sale of their own.
She is asking Bonner Springs and Edwardsville residents to donate any items they can to the garage sale, and 100 percent of the proceeds will be divided out among the elementary schools to supplement the area where Trout said federal dollars had been pulled.
Trout's home is already beginning to fill up with donated items. She said she was looking forward to the event but honestly had no idea what was in store.
"We can accomplish a lot with this fundraiser, but I don't really know what to expect," she said. "If we do really well, we could even go up and give some to Clark and the high school."
The items that do not sell at the garage sale will be donated to Vaughn-Trent and the Lulabelle Mission Center at Pleasant Hill Baptist Church.
If you would like to volunteer or have items to donate to the sale, call Trout at (913) 745-5379, or send an e-mail to blewblink@yahoo.com or projectsamaritan@yahoo.com.