Jazz band rocks busy weekend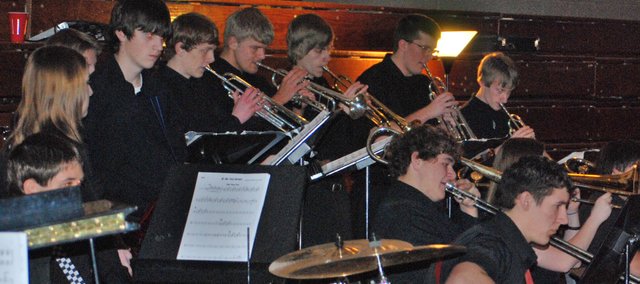 Composer and conductor John Philip Sousa said jazz would endure as long as people heard it through their feet instead of their brains.
The Basehor-Linwood High School jazz band has had a lot of feet tapping lately. The band recently had a triple-play weekend, performing at a basketball game on Feb. 20, a jazz festival in Warrensburg, Mo., on Feb. 21, and at its annual Jazz Night on Feb. 22.
"It was a very long weekend for everyone involved, but very well worth it," said jazz band director Ryan Kazmaier.
Jazz Night was a big success this year, Kazmaier said. The event attracted an audience of more than 200 people, and the band was able to raise $1,500 that evening from a raffle and silent auction. Kazmaier said students in the band were happy with the turnout.
"The students really enjoy playing a concert for a big crowd," Kazmaier said. "They don't like it when the basketball team doesn't get a very good turnout on a certain night, so they really enjoyed the big crowd that we had."
The large attendance, Kazmaier said, could be attributed to the students' increased effort throughout the year.
"The jazz band just worked a lot harder to pre-sell tickets this year," he said. "I think last year, we pre-sold around 50 tickets, but this year the kids did a great job spreading the word, and we were able to pre-sell about 125 tickets."
A lot of preparation goes into an event like Jazz Night. Not only does the band have to advertise and pre-sell tickets, but students, instructors and parents put in hours to plan and organize donations and come together to create sets that capture the aesthetics of a true jazz soiree.
"All the parents, (concert band director Curtis Westbrook) and I put a lot of hard work into getting the gym ready to look more like a nightclub setting rather than a jazz band playing in their school's small gym," Kazmaier said.
Rebecca Keopke said that the band's booster organization met with businesses around the area to gather donations for Jazz Night.
"We are thankful to all those who sponsored our event by providing items to be raffled or silent auctioned," Keopke said.
Businesses that participated were Mannings Music, Tune Shop, Mama Mias, The Legends, Stanford and Sons, Holyfield Winery, the T-Bones, the Kansas City Chiefs, Wal-Mart, Legends Theater, Sidepockets, Panera Bread, Applebees, The Basehor Community Library and the Booster parents and alumni.
Keopke said that the booster organization's support extended far past Jazz Night.
"The band booster family helps all year round with every aspect of band whether it be hauling instruments, feeding the kids at festivals, preparing for fundraising events or concerts," she said.
In addition to Jazz Night, the band had a fall mixer after the Lansing football game, at which it was able to raise $750.
Kazmaier said he expected the money to be used for future band activities.
"Due to the budget cuts that are affecting everyone in the country, we will be keeping that money and will most likely use it to help the marching band program next year," he said. "Whether that means paying for buses for our marching festivals or paying for our show for the fall."
For more information about the Basehor-Linwood High School jazz band, visit the high school's Web site at usd458.org/BLHS.