Koontz lifts Basehor girls past Atchison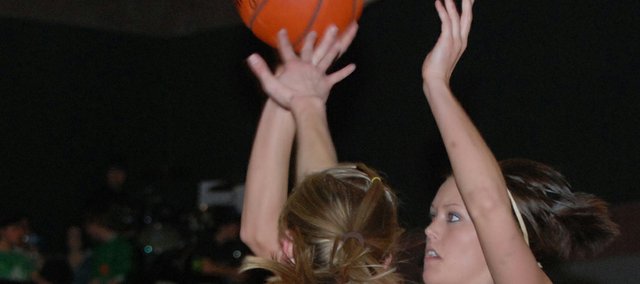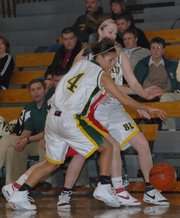 Basehor-Linwood girls basketball coaches issued challenges at halftime of Tuesday's Class 4A sub-state game against Atchison.
BLHS assistant coach Bruce Courtney took a page from Emeril Legassi, but he wasn't cooking.
"We need to pick it up 10 notches," he said.
Coach Noah Simpson echoed the sentiments at halftime. Basehor-Linwood led 25-19 and Atchison was a couple plays away from tying the game. He spoke to his team about playing with a sense of urgency in a win-or-go-home postseason tournament.
He didn't want the players to lose and miss a trip to Perry-Lecompton and an opportunity to play for a state tournament berth. He challenged them to take care of business and win the game by double digits.
The Bobcats responded by outscoring Atchison 41-20 in the second half and rolling to a 66-39 victory.
Bren Koontz scored 16 of her game-high 24 points after intermission. She scored 8 points in the third quarter and 8 in the fourth quarter.
The Bobcats were able to handle Atchison's zone by dishing the ball to interior players who either finished with layups or distributed the ball out to the perimeter for jump shots.
"We did a great job of attacking the zone," Simpson said. "Once we did that, we found our rhythm."
Basehor-Linwood went on a 9-2 run midway through the first quarter to take a 16-6 lead into the second quarter.
Atchison switched to a zone defense in the second quarter, and the Bobcats struggled. Basehor-Linwood cut the lead to five halfway through the second quarter.
"Definitely, I thought the first half we had a hard time putting the ball in the basket," Simpson said. "The first quarter we ran our stuff against man, second quarter against zone, and we struggled to get a rhythm against the zone."
The Bobcats outscored Atchison 18-15 in the third quarter and the score was 43-34 entering the fourth quarter.
Basehor-Linwood stretched the lead in the fourth quarter, with a 9-2 run.
Koontz knocked down multiple shots during the run before Atchison called timeout trailing 53-36 with about four minutes to play in the game.
The Bobcats remained in control during the last four minutes, outscoring Atchison 13-3 the rest of the game.
In addition to Koontz's big game, Cassie Bever scored 14 points, which included four shots from 3-point range. Courtney Hooks joined her in double figures with 11 points.
The Bobcats' other scorers were Kara Douglas, 4; Megan Bergstrom, 4; Macyn Sanders, 4; Amber Jeannin, 3; Courtney Poe, 2.