Seaton leads Bobcats with sixth-place finish at state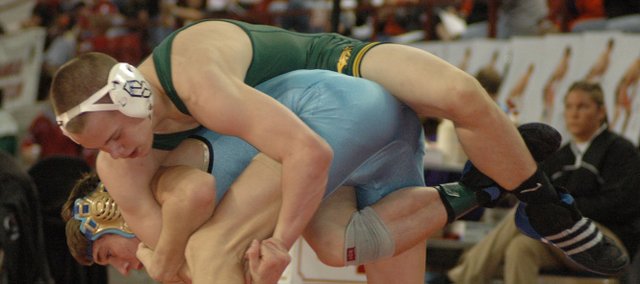 Photo Gallery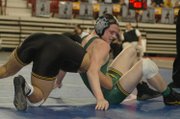 BLHS wrestlers compete at state
Reality set in for Mike Torrez on Monday.
He realized that wrestling season was over, and he hadn't fared as well as he wanted to in the Class 4A state tournament.
He finished with a 1-2 record at state and returned home without a medal.
"It did not go so good," he said.
He lost his first match to Clay Mulligan of Scott City by pin.
Torrez rebounded by defeating Josh Langstaff of Mulvane 10-3 in the first round of the consolation bracket. He was eliminated in the following round by Austin Hood of Louisburg. Hood won the match, 6-1.
Torrez hurt his arm in the final match. Wrestling in the bottom position, he was trying to post his arm, and it buckled. He ended up losing the match
"It got to me on Monday," he said. "It just kind of hit me."
After winning regionals, Torrez said he hoped to perform better. While he isn't exactly thrilled with the way the season ended, he is excited to get involved with kids club wrestling and prepare for next year.
"I just looked at it like I am just going to try and make improvements and come back next year," he said.
Torrez's story is a common one for the five Basehor-Linwood wrestlers who competed at state on Friday and Saturday. Of that group, only Symon Seaton placed in the tournament for the Bobcats who scored 11 points and finished in 33rd place.
Seaton placed sixth in the 125-pound weight class. He defeated Troy Clark of Chanute, 6-2, in the first round. In the second round, he defeated Alex Bontz of the Wichita-Independent, 5-4.
He lost to Kyle Johnson of Columbus, 3-1, in the championship semifinals.
Seaton moved on to the consolation semifinals. He was leading early against Westin Shay of Osawatomie before Shay rallied to pin Seaton. Seaton then lost to Tyson Schmidtberger of Russell, 8-6, in the fifth-place match.
Seaton finished the season with 33-8 record.
Miles Brown finished 0-2 in the tournament. He lost by pin to Adam Leedy of Chanute. In the next round, he lost to Morgan Shorter by technical fall, 15-0.
Garret Kahle finished 0-2 in the tournament. He lost to B.T. O'Hara of Columbus by pin. He lost to Codie Bontz of Wichita-Independent, 16-2, in a major decision.
Joe Johnson finished 1-2 in the 145-pound weight class. He lost his first match to Jake Hattabaugh of Andale, 7-3. He won the second round match against Michael Bird of Mulvane via a pin.
Johnson lost to Morgan Numrich of Scott City, 2-1, and was eliminated from the tournament.
After the tournament, Basehor-Linwood wrestlers made the trip home. The ride was a little bit quiet as wrestlers thought about the missed opportunity and looked toward next season.
"It was pretty quiet; no one talked much," Torrez said. "We were all a little bit down because we didn't wrestle well enough."
Coach Scott Neil was unavailable for comment.