Severe weather passes; more storms heading northeast from Emporia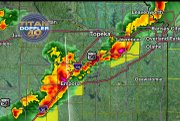 The National Weather Service allowed a severe thunderstorm watch to expire, but rain will continue to fall during the early morning on Sunday.
Severe thunderstorm warnings had been issued for much of northeast Kansas overnight as strong storm cells moved through the area. Hail and damaging winds reaching 60 mph were reported in some areas. Flash flood warnings had been issued for Douglas and Osage counties.
A flash flood watch was still in effect until 7 a.m. for Leavenworth, Johnson and Wyandotte counties.
At 11:37 a.m. radar indicated a storm capable of producing at least quarter-size hail and damaging winds was moving into the area, 6News Meteorologist Craig Gold said. A severe thunderstorm watch was in effect until 3 a.m.
Douglas County Emergency Management said the storm moving through southern Douglas County was producing nickel-size hail.
A small amount of rotation had also been spotted in a cell near Osage City, however no tornado watch was issued.
Stay logged onto this Web site for all the latest information.