St. Pat's parade challenge: show their green for gold reward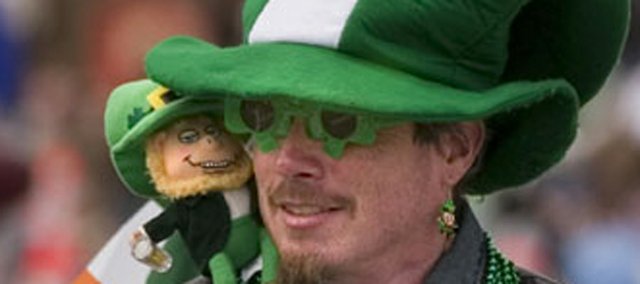 It's time once again for Shawnee residents to dig out their green shirts, shamrock hats and other Irish regalia.
The Irish American Club of Johnson County and the Shawnee St. Patrick's Parade Committee are preparing for the 27th Annual Shawnee St. Pat's Parade at 1 p.m. Sunday, starting as always at Johnson Drive and Monrovia Street and heading east on Johnson Drive to downtown Shawnee. Parade organizers say they hope entrants will find more than one way to be "green" with this year's theme: "Show us the green and we'll show you the gold."
"We were trying to do something that's kind of a reference to 'going green,' like the recycling part of it," said Denise Shannon, parade committee chair. "It's always funny to see how people play with our themes; they always come up different interpretations."
Entry in the parade is free as always, and there are cash prizes for first place in 11 categories, which is where the "gold" comes in. Entry forms are available at City Hall, Court of Appeals Pub & Grub in downtown Shawnee and at irishamericanclubofshawnee.com. Entry forms also will be available the day of the parade at lineup headquarters at Johnson Drive and Monrovia.
Shannon encouraged everyone to decorate their vehicle or tractor trailer and join in the fun.
"It looks like we're going to have lots of kids groups with the parade this year," Shannon said. "Every year it just seems to be a big hit with everybody in Shawnee."
The awards ceremony will be staged immediately after the parade at the Knights of Columbus Hall at Johnson Drive and King Street. Keeping with the Irish tradition, corned beef and cabbage and other refreshments will be served. Live musical entertainment by Eddie Delahunt also will be provided.
Shannon said planning the parade has gone smoothly thus far, even with fears that tight budgets could hinder it.
"We thought with the economy, we might have problems with sponsorships," she said. "But everybody just kind of stepped up to the plate."
This year's sponsors are the City of Shawnee, State Farm Insurance agent Jim Allen, Deffenbaugh Industries, Margarita's Restaurant, La Petite Academy, 949 KCMO Radio, Court of Appeals, Center Body & Tow, F & C Painting and Steve Skeet Karaoke.
At 4:30 p.m., after the parade awards, the Sister Cities Committee Duck Race will once again send hundreds of plastic, multi-colored ducks down the Turkey Creek tributary, starting behind Danally's, 6022 Nieman Road.
The numbered ducks race under the road to the finish line behind the Shawnee Post Office, 6201 Nieman Road. The person holding the ticket matching the winning duck could win a trip to Ireland. Duck tickets are available at the Knights of Columbus Hall the day of the parade.