Back to back:
BLHS

girls repeat as powerlifting state champs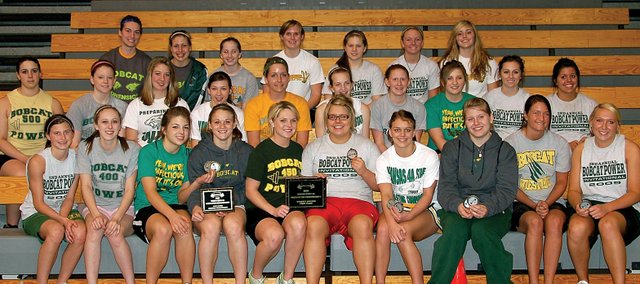 The Basehor-Linwood girls powerlifting team has dominated in everybody else's gyms for the past two years, so it was only fitting that the state's most dominant program got to defend its state title on its home turf.
The Bobcats won their 12th straight tournament and second consecutive Class 4A state championship on Saturday at the BLHS gym, and they did it in dominating fashion.
Basehor girls placed first overall in five of the 10 weight divisions, and the Bobcats compiled 122 team points, far outdistancing runner-up Russell's 35 points. Caney Valley and Clearwater tied for third with 30.
"Our girls team honestly exceeded my expectations," BLHS coach Ross Schwisow said. "Walking in, I didn't think we'd have that many overall champions. I felt really good knowing we'd have a couple of them — Kayla Peterson, Melissa Seaman, Baily Kraus I was expecting because they've done so well at every meet they've gone to, but Brittany Billinger and Shelby Pierce are sophomores and they won their classes. That was amazing for them."
As tough as the BLHS girls were last year, they didn't have any state record holders. That changed on Saturday as the Bobcats tied or broke five records. Megan Rehm tied the hang clean record for the 140-pound class when she lifted 170 pounds. Shelby Witt set a state record in the hang clean in the 180-pound class by lifting 165 pounds.
The other three records were set by Seaman in the 148-pound class. Her 305-pound squat was a new record, as was her 180-pound hang clean. Those two lifts, paired with her second-place bench press of 140 pounds, added up to a new state record for total weight at 625 pounds. The old record was 560 pounds.
"On my squat I was really surprised (to set the record), but on my clean I tied my personal best," Seaman said, noting that her squat record broke her personal best by five pounds.
Eight BLHS girls won state championships in their respective weight classes. Sheridan Miles won the bench press (90 pounds) in the 105-pound class; Kraus was the champion in clean (140 pounds), squat (230 pounds) and total weight (495 pounds) in the 123-pound class; Haylee Matthews was the champ in bench press (125 pounds) in the 123-pound class; Peterson won clean (165 pounds), squat (230 pounds) and overall (495 pounds) in the 132-pound class; Rehm won the clean at 140 pounds; Seaman won three titles with record-setting performances at 148 pounds; Billinger won clean (130 pounds), squat (230 pounds) and overall (460 pounds) in the 156-pound class; Pierce was the champion in squat (240 pounds), clean (155 pounds) and overall (515 pounds) in the 165-pound class; Jen Ciszewski won the bench press (135 pounds) in the 165-pound class; and Witt won the bench (150) — in addition to her record-setting clean — in her weight class.
Depth made an additional difference to the Bobcats. For example, while Kraus won the 123-pound class in the overall standings, Matthews was second and brought in eight more points for the team standings. Similarly, Rehm won one individual lift in her class but was third overall.
Also for BLHS, Kristy Kozar was second in the 180-pound class, Emily Blanks was second in the powerweight category, and Rachel Neal (148 pounds), Leah Roberts (156 pounds) and Tiffany Jennings (165 pounds) were third in their classes.
Seaman credited the Bobcats' success to Schwisow's ability as a motivator.
"Schwisow really helps us with all of our lifts and whatnot," Seaman said. "He just keeps motivating us every day. He tells us all these teams are coming after us, and it just makes us want to go a little harder."
In the boys competition, BLHS finished second behind Russell for the second straight year. Russell scored 76 points, Basehor had 62 and Clearwater was third with 51.
Although the Bobcats hoped to match the girls' accomplishment with a state title, Schwisow said taking second was admirable considering the team lost 13 point-scorers to graduation off of last year's team.
"For our kids to do that, I was very pleased," he said. "They performed really well, so I'm real excited for next year, and I think the kids felt that way, too."
Six Bobcats won state championships. Chris Douglas dominated the 114-pound class, winning the bench (145 pounds), clean (170 pounds) and overall (550 pounds) categories; Cory Stephens won the clean (195 pounds) in the 123-pound class; Russell Clark was the 123-pound champion in the squat (280 pounds); Bobby Courtney won the clean (235 pounds) in the 140-pound class; Nick Stevens was the 140-pound champ in overall weight (725 pounds); and Martin Buck won the bench press (280 pounds) in the 156-pound class.
Depth factored into Basehor's ability to hold off Clearwater for second. Stephens and Clark finished 3-4 in the 123-pound class; Courtney was third overall in the 140-pound class; Zach Smith was fourth at 148 pounds; Martin Buck finished fifth overall at 156; Brandon Leppke and Brandon Ogden went 3-4 at 165 pounds; Cody Green was third at 198 pounds; and David Wynn finished fourth in the powerweight category.