Businessman brings expertise to election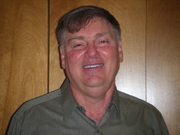 K.C. Construction owner David Breuer knows the value of a dollar. It is this knowledge, he said, and his managerial experience that make him a solid candidate for the Basehor City Council.
"As owner of this company, every decision I make affects me financially," he said. "I understand what it takes to run a business successfully, and I think the council should be run in a more business-like way."
Breuer has been a resident of Basehor for 53 years and owner of K.C. Construction, 1211 158th St., since it first opened in 1977. He is also president of the Falcon Lakes Home Owners Association, Lion's Club president, chair of Common Ground Alliance and he serves on a bioscience committee in Kansas City, Kan.
Though he is running unopposed, Breuer said he was not making any assumptions about being elected and was taking his campaign seriously.
"That's ultimately up to the people," he said. "You never know what can happen. I'd like to think I will be elected, but I'm not jumping to conclusions just yet."
Breuer said that if he were elected, he wanted to help the city focus on its people and keep in mind that present council decisions have a large effect on the future.
"I'm in it for the overall good of the people of Basehor, and I'm looking at it long term," he said. "We have to look ahead and see how our actions affect the future populations of the city."
Breuer said he had a unique way of looking at the future, and if he were a member, he would like to encourage the council to consider his method.
"I think we should plan in terms of growth, not years," he said. "We try to plan things in a set timeframe, when it seems like it would benefit us to plan based on population. At this number population, we'll have this done, and at this number we'll have this done, and so on."
Whether a council member or not, Breuer said the city had some things it needed to make a top priority. He said the city needed to do what it could to promote local businesses.
"We're close to so many things — the Legends, Kansas City, Lawrence — that it's hard to keep business here," he said. "But we have to find a way. For instance, we are going to have to find a way to support that grocery store. It's so important for the city."
Breuer also said the council and the residents of Basehor needed to rally behind the school district.
"Basehor has a fantastic school system," he said. "I went all the way through it. It's a great, great district, and we need to embrace that."
If elected, Breuer said he wanted to make an effort to bring all the council members together and encourage them to respect each other's opinions. He said that criticizing each other would get them nowhere.
"It's hard to bring people together, but it's necessary," he said. "You can waste a lot of energy being negative. You have to go in with an open mind and be respectful."
Overall, Breuer said he could bring a valuable perspective to the council.
"I'm an entrepreneur and a businessman," he said. "I could bring to the table those skills and expertise when it comes to the inner structure of a business."
The last day to register to vote is Monday, March 23. The general election is Tuesday, April 7.