Marble event offers crazy fun for all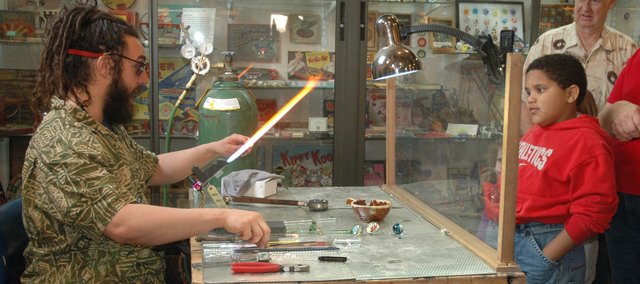 Photo Gallery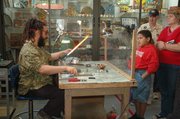 Marble Crazy
The Moon Marble Company in Bonner Springs has its ninth annual Marble Crazy March 5-7. The event brought in nearly 20 marble artists from across the country to demonstrate for visitors how to make a marble.
Hwi-Ja Canda has been hearing about a unique store in Bonner Springs that has specialized in handmade marbles for several years.
The Lawrence resident never managed to visit the store before Saturday, when she attended the ninth annual Marble Crazy event at The Moon Marble Company, 600 E. Front St.
"I always wanted to visit here, and I'm so happy I finally did," she said. "It has such beautiful marbles that take me back to my childhood."
Marble Crazy started Thursday afternoon with a private marble-making demonstration from featured artist Gateson Recko, of Swedesboro, N.J. The event opened to the public Friday and Saturday with about 20 other artists on hand to give visitors a close-up look at the marble-making process.
An hour into the event, a line had formed around the building with people wanting to get inside to see just how much skill goes into making a marble.
Martha Bridgman and her grandson Chris Byrd, of Shawnee, arrived early enough Saturday morning to avoid the lines and stood at the front of a crowd watching one artist skillfully roll a long rod of glass between his fingers as a small, round marble began to form under an intense flame.
"Watching him make these marbles is amazing," Bridgman said. "I've never seen it before. It was really fascinating to watch."
As the artists sat at their stations making marbles for their audience, visitors like Bridgman and her grandson asked several questions about the process. At one demonstration station, a camera was set up next to the artist so that a close-up view could be seen on a large television that hung from the ceiling.
In between demonstrations, the artists set up tables of merchandise showing off their signature pieces that ranged from marbles with encapsulated flowers to marbles containing an entire universe of planets, galaxies and stars.
Carissa Handzel, of Roeland Park, along with her daughter and husband, shopped around Moon Marble's wide selection of vintage toys and games. The family found out about the event from a friend, and Handzel said she wanted to show her daughter a game that she remembered playing as a child.
"This is so cool," she said. "I've never seen a marble being made before. It was pretty interesting."
Bruce Breslow, one of the owners of The Moon Marble Company, said he thought the event went off with very few problems.
"I think all the artists had a good time, and it seemed that the people all had a good time," he said.
The only glitch of the weekend was that the store ran out of certain sizes in the t-shirts that were made for the event. But Breslow said that he was ordering more and that anyone who didn't get one during the event would still have a chance.
The staff at the store worked hard throughout the day, Breslow said, to keep everything moving along. While a line formed outside, he said the wait for visitors to get in didn't exceed 15 minutes.
"It was just pretty crazy," Breslow said. "It was marble crazy."