Ms. Wheelchair competition provides local resident platform to raise awareness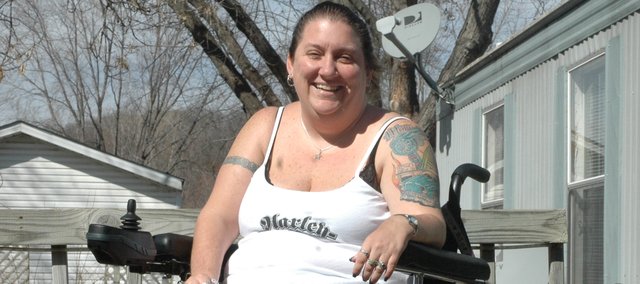 It's been 14 years since Cherie Armstrong first sat down in her wheelchair, and while her movement may be more restricted, nothing has been able to slow her down.
"This chair hasn't stopped me from doing everything that I want to do. I go out more than some of my friends," said the Edwardsville resident who ended up in her wheelchair after being in a car accident in which she wasn't wearing her seatbelt.
Now Armstrong, who is paralyzed from the chest down, is taking on a new challenge. On Sunday, Armstrong will be one of three contestants competing in the Ms. Wheelchair Kansas pageant in Topeka. The contest is not the typical beauty pageant but rather a competition to find an articulate delegate to serve as a role model and spokesperson for people with disabilities in Kansas.
Armstrong found out about the contest after a friend pointed out a small announcement in the Basehor Sentinel newspaper. She said she wasn't sure if she wanted to enter at first, but after running the idea by her friends and family, she decided it would give her a chance to speak about an issue she is passionate about.
"This contest is important because there are plenty of women out there (in a wheelchair) who have something to say and a point to get across. This is a chance to be their voice," she said.
During the contest, each contestant, who in addition to Armstrong includes Marie Clement of Mayetta, and Ashley Wagner of Manhattan, will be judged in four different events: two personal interview sessions, a platform speech presentation and on-stage questions.
For Armstrong's platform speech, she plans to talk about not only the importance of such a contest but also accessibility issues that many disabled people face every day. She said despite a federal law that requires businesses to be Americans with Disabilities Act-compliant, there are many places she just cannot visit because she has no way of getting inside.
This won't be the first time that Armstrong has advocated for disability rights. Last year, she was presented with a Horizon Award as the consumer of the year from the Coalition for Independent Living.
"I'm totally not a pageant type of person. I'm a jeans and T-shirt type of girl," she said. "But this is important. I just want more people to be aware."
The person who wins the contest will not only move on to compete in the Ms. Wheelchair America contest in August, but will also travel throughout the state educating various groups about issues of importance to people with disabilities.
Armstrong said the chance to speak up for people like herself is what she is most excited about with this contest. She said that a lot of people just don't understand exactly what a person with disabilities goes through and while she said there are some helpful people out there, she finds that the majority of the people don't get it.
"I want to get the word out about accessibility," she said. "People just don't understand why we need more space in the handicap parking. I just think people need to pay attention a little bit more."
The crowning ceremony is scheduled for 2 p.m. Sunday, March 15, at the Capitol Plaza Hotel in Topeka.