Students address school violence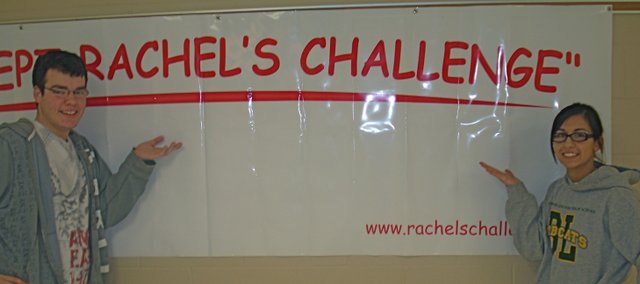 The Basehor-Linwood Student Council is trying to incite a chain reaction of compassion. Through the student council-sponsored event "Rachel's Challenge," a group will expose audience members to the horrific events that took place the day of the shootings at Columbine High School and to the legacy left behind by one of the victims, Rachel Scott.
Members of the Rachel's Challenge organization will give a morning presentation to the entire high school and a 7 p.m. presentation to Basehor-Linwood community members on March 30. Both presentations will take place in the large gymnasium at Basehor-Linwood High School.
"We're looking forward to it," freshman student council officer Jamie Crouss said. "It's an opportunity to show people what happened that day and to remember the students who died."
Rachel's Challenge is a non-profit program created by the family members of Rachel Scott, who was the first person killed at Columbine High School. Her family established the organization to keep her memory alive and to teach people about the power of kindness. The organization has visited numerous schools in the country, telling students about Scott's belief that one person's compassion can start a chain reaction to many.
Basehor-Linwood Student Council members contacted Rachel's Challenge about coming to the high school after they saw one of its presentations at Mill Valley High School.
Sophomore student council officer Owen Lewis said the Mill Valley assembly left a big impression on everyone.
"It's hard to not be affected by it," Lewis said. "It just makes you realize that Columbine can happen anywhere, and even the smallest threats have to be taken seriously. We want to spread the word to prevent violence in schools."
The program takes place in three parts, student council president Amber Jeannin said. The students saw the second part of the program at Mill Valley, which was centered on Scott's legacy.
Jeannin said that Basehor-Linwood students and community members would see the first part, which would be more focused on the events at Columbine.
"Hopefully, this will be followed by two more installments," Jeannin said. "We'd like to keep it going and show all three parts."
Student council sponsor Stephanie Harris said the 7 p.m. program was open to the public, and that admission was by free-will donation. Because of the intensity of the presentation, Harris said 13 and older was the suggested age bracket for this event.
For more information, contact Harris at (913) 724-2266. To learn more about Rachel's Challenge, visit the organization's Web site at rachelschallenge.org.