FINAL

:

BOBCATS

WIN

STATE

TITLE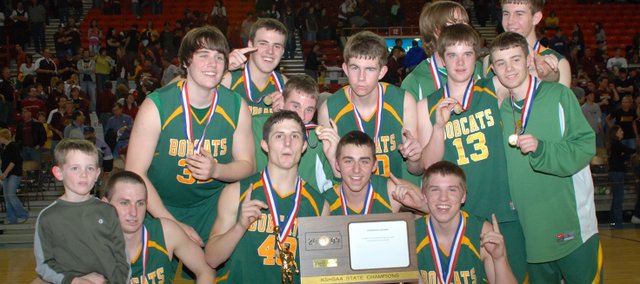 Salina — For the first time in Basehor-Linwood athletics history, a state championship banner will hang on the wall.
The sixth-seed Bobcats controlled the Class 4A basketball state championship game from start to finish, trailing only once — for 18 seconds in the first quarter — along the way to defeating top-seed Girard, 53-48, Saturday night at the Bicentennial Center.
After leading by as many as 11 points in the first half, BLHS held a 27-21 lead at halftime.
Just like in their state semifinal victory, however, the Bobcats had a chilly third quarter and scored just four points. Fortunately for them, they played good enough defensively to limit Girard to six points. BLHS held a 31-27 lead entering the fourth quarter.
Girard pulled within 33-29 on a layup by Darian Kelly with 7:01 to go. After two free throws by Ryan Murphy, Tanner Poppe scored on a turnaround jumper to keep the Trojans within 33-31.
The Bobcats scored the next seven points as Richie O'Donnell made a lay-in, Chandler Schaake swished two free throws and Anthony Pierce converted a 3-point play, bolstering the lead to 40-31 with 4:06 to go.
Girard rallied to within 50-48 with 38.3 seconds remaining, but Pierce made two free throws and Tanner Bowers added another to ice the victory.
Schaake and Pierce led BLHS with 13 points apiece, Ryan Murphy had 10, Bowers scored 6, O'Donnell had 6, Clint Schierbaum scored 4 and Mark Vaca added 1.
Poppe led Girard with 21 points and Kelly added 12. The Trojans end their season with a 24-2 record.
Basehor ends its season with a 22-4 record and a state championship.
For more on the game, check back later to basehorinfo.com. This story is developing.
HALFTIME UPDATE
They're not quite firing at the same blistering pace as they did in their semifinal victory, but the Basehor-Linwood Bobcats shot 50 percent from the field in the first half of the Class 4A state championship game and hold a 27-21 lead over Girard at intermission.
A large contingent of BLHS fans has filled their half of the Bicentennial Center, and they've had plenty to cheer about. The Bobcats scored the first four points of the game on a layup by Anthony Pierce and a lay-in by Clint Schierbaum.
Other than a brief 9-8 lead by Girard — that lasted all of 18 seconds — the Bobcats have been in control.
They led by as many as 11 points in the first half, with that lead coming at 25-14 on a pair of Chandler Schaake free throws with 3:19 left in the second quarter.
Schaake leads BLHS with 11 points in the first half, including three 3-pointers. Tanner Poppe leads Girard with 12 points on 5 of 7 shooting, but his opportunities have been somewhat limited as the Bobcats have thrown numerous defenders at him.
PREGAME
The Basehor-Linwood boys and Girard have taken the court to begin warmups for their Class 4A basketball state championship game at the Bicentennial Center. Tip-off is set for 6:15 p.m.