Ticket to ride: McLouth teen pro bull rider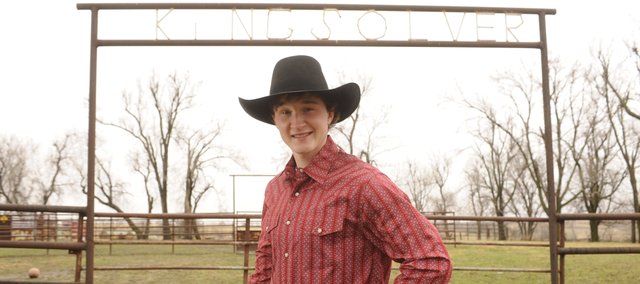 Bone-chilled and without a jacket, Skeeter Kingsolver was up a creek and without a paddle.
Or maybe just without a birthday or two.
He could still hear the thump of the music, the happy voices. Feel the warmth of central heating deeper inside. Yet he was stuck on a chair, baby-sat by the club's bouncer on a frigid night in St. Louis.
"That bouncer, you know, (says) 'We can't let him in,'" Kingsolver says, retelling the night he nearly froze his chaps off. "They pulled up a chair right next to him, by the damn door. Everybody's walking in and walking out. I'm freezing."
So this is what it feels like to have made it big-time. There are some pluses to having your wildest dreams come true, of course, but not being old enough to go to your own afterparty isn't one of them.
Welcome to the ups and downs of life as Professional Bull Riders' newest star: McLouth's own Keith "Skeeter" Kingsolver.
Just two months into his dream world, Kingsolver, 19, has legions of screaming fans, the top position in the race for Rookie of the Year and the life he always imagined: As a rider on professional bull riding's top tour, the Built Ford Tough Series.
"I'm riding against people I looked up to," he says. "And you know, they just treat me like one of them now. And I am."
Making the tour
Kingsolver began his riding career on something a lot softer than a bull, but just about as mean: a sheep that grew an especially ill temper thanks to the habit Skeeter and his older brother, Blake, had for riding it as kids. From there, he moved on to rodeo school near De Soto and bulls that didn't bleat.
By age 13, he was riding bulls for two junior associations in Kansas and Missouri, despite the fact that he had barely broken 5 feet and 100 pounds.
Then, last year, he graduated high school early, hoping to win a spot on the Built Ford Tough Series through the challenger circuit. After waiting a year, he made his debut at the highest level Jan. 30 in Winston-Salem, N.C.
Now, just eight events later, Kingsolver is ranked 23rd in the world — higher than several men who have competed in all 13 of the series events in 2009. If he stays in the top 45, he'll make it to the world finals in Las Vegas this fall.
Matt Gelvin of Lawrence, a fan of the man rodeo broadcasters call "The Royal Solution," puts Kingsolver's accomplishments into terms fans of other sports can understand.
"Most people his age would still be on the challenger events, which is similar to the AAA and AA leagues in Major League Baseball," Gelvin says. "For someone of his age to be doing this well is a lot like Tiger Woods when he was young. He came onto the stage and made a major impact on the golf world, much as Skeeter has done with the PBR (Professional Bull Riders)."
Kingsolver's rapid rise isn't lost on his parents, Randy and Sue. His mother is flabbergasted when she sees young girls begging him to sign autographs — on their foreheads in permanent ink.
"I was shocked," she says, wondering if those girls went to school like that the next day.
And his father finds it hilarious that his son was asked to prom by a teen in Oklahoma.
"This girl asked him what he was doing on May 2nd and he says, 'I don't know, why?' and she says she needs a date for prom," Randy Kingsolver says with a grin. "She asked where he lived in Kansas and he said the northeast corner."
Skeeter then chimes in, "She said, 'That's a little too far.'" Before adding the kiss of death to the girl's dream: "And it's on the weekend."
Being a pro
Weekends are Kingsolver's bread and butter. He spends Thursdays and Fridays traveling, Saturdays and Sundays at the arena and then goes home Monday. Sandwiched between rides are autograph signings, interviews and radio shows.
This past weekend, Kingsolver was in Birmingham, Ala., riding despite the jammed shoulder he suffered while finishing 12th in front of a sold-out hometown crowd last weekend at the Sprint Center in Kansas City. Injuries are, of course, quite common in bull riding, and Kingsolver has had his fair share of them. He's broken his leg, collarbone and had all sorts of concussions. For his mother sitting in the stands, the threat of injury combined with the thrill of the ride causes a sweat-inducing few seconds.
"Your heart is racing. You can hardly swallow. It's an adrenaline rush," Sue Kingsolver says. "I'm always praying for him to land on his feet."
And when it's all over and the sweat has dried and she hears from her son's lips that his shoulder injury is much exaggerated, Sue is happy to have him home to sleep in his childhood bed. In some ways, he's much like other kids his age who come home from college on the weekends. Only his school is populated by his childhood heroes and massive bovines with names like Papa Smurf and I'll Make You Famous.
"I just really didn't feel like going to college," Kingsolver says. "I mean, bull riding is what I wanted to do and I knew that, so, I didn't want to go to college. I just think it would set me back."
Kingsolver has already earned nearly $40,000 as a professional, all money he's saving and investing with hopes of retiring while still in his 20s. But first he just has to get into his 20s, preferably to 21 so he's not left freezing and tethered to a bouncer at his own afterparty.
But until then, he's living his dream, eight seconds at a time.