Bonner improv group competes for laughs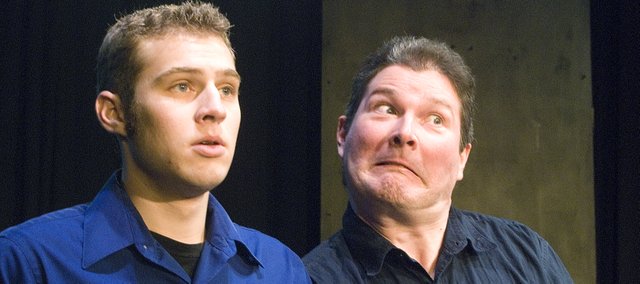 There is only one thing to know about the Improv Thunderdome: Nine teams will enter, but in the end, only one team will leave.
Unfortunately for the Bonner Springs improv comedy troupe Trivial Prov-Suit, a chance to be that team will have to wait for another season.
John Robison, who owns and operates the Roving Imp Theater, 115 Oak St., said he and his improv partner James Nelson had a good time at Saturday's show, but because other things were happening in the theater and because Nelson will be moving to Chicago, Trivial Prov-Suit probably won't step into the Thunderdome again until season five.
For the last four months, the Westport Coffeehouse, 4010 Pennsylvania Ave., Kansas City, Mo., has been home to the third season of the Improv Thunderdome. Each team gets 30 minutes to compete and at the end it is up to the audience members to vote on their favorite. Six of the teams already competed in the first two rounds.
On Saturday, Trivial Prov-Suit was up against Those People, from Lawrence, and The Trip Fours, from Kansas City.
Instead of getting specific directions from the audience, the two Trivial Prov-Suit members would ask each other questions from the Hasbro game Trivial Pursuit and then act out a scene based on the answer.
Robison said the idea for his group came from his love of the game Trivial Pursuit. He originally had planned a comedy routine based around people playing the board game and then saying funny things, but "it quickly became apparent that it was not going to be funny, and it quickly evolved into what we had here tonight."
Trivial Prov-Suit performs at the Roving Imp Theater, 115 Oak St., at 9 p.m. on the first Saturday of every month, but Robison said they had many more performers each weekend.
Besides performances, the Roving Imp Theater also offers classes in acting and improvisation.
For more information call the theater at (913) 441-2309.