Eighth-graders learn first hand about child labor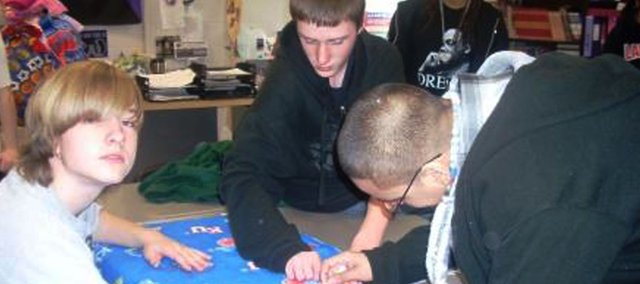 Eighth-graders at Clark Middle School got a closer look this month at what it would be like to be their age during the 1800s.
As the students started their unit on the industrial revolution, for the second year Babs Huebner, who teaches American History from the Revolutionary War to the Civil War, devised a project to make the students' lessons on child labor a little more real.
"I wanted them to see the industrial revolution from a different point of view," she said. "I wanted to make the lesson relevant to them."
That's when Huebner teamed up with a friend, DiAnee Berning, who owns the nonprofit company Cozy Quilts. The organization makes and donates fleece blankets to the Overland Park Regional Neonatal Unit, Children's Mercy and a women's shelter in Leavenworth.
Huebner said the project was meant to serve a dual purpose. Not only would the students be giving back to the community by providing a good for people in need, but Huebner was also able to simulate what it would be like to be a child working in a factory.
While Huebner didn't have the students work for 40 hours, which is what she said many young children worked in a week during the 1800s, each student put in about two hours of work.
"Some of the students complained, and I told them 'Think if you had to do this for 12 hours a day. Think about children 5 years and older working in poor conditions,'" she said. "I really tried to bring it home to them about what it was really like."
Huebner said in addition to talking about U.S. child labor in the past, the students talked about how it still happens in many parts of the world today. She said the lesson opened their eyes to a current problem and showed them the effect they can have on others.
"It really heightened their awareness of the quality," she said. "Some students made comments about why does the project matter, and others responded that it mattered to the baby that would get what they made. It made an impression that this wasn't just something their teacher was going to grade."
The students also made a gallery walk as part of the child labor unit. The students gathered photos of children working in factories and hung them in the hallway. Then Huebner asked the students to use "powerful words" to describe the looks on the faces of the children in the photos. The students took those words and later wrote poems.
"I personally feel that this is important. The students were pretty amazed by what we were learning," she said. "Students this age don't usually have the opportunity to give back very often, so this was a great opportunity."