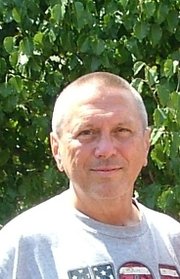 Occupation: Basehor VFW Vice Commander, Basehor planning commissioner
Place of birth: Kansas City, Mo.
Family: Wife, Linda, daughter, Anita, son, Joe
Q: When did you move to the Basehor area, and what brought you here?
A: Moved here in 1995 from Kansas City, Kan. My wife's father and stepmother lived here, and after her stepmother passed away, my wife wanted to move closer to her father to help take care of him.
Q: What's the biggest risk you've ever taken?
A: In the Navy every day at sea was a risk.
Q: What's the best piece of advice you've ever been given?
A: Concern yourself with only what you are about to do, not what you have done.
Q: What three things would you want people to know about you?
A: I'm a devoted family man, I love my country and I can't sing.
Q: What did you want to be when you grew up?
A: An adult.
Q: What's your ideal vacation spot?
A: Ideal, I'm not sure, but favorite would be Las Vegas.
Favorites:
Song: "Somewhere Over the Rainbow"
Color: Green
Food: Mexican (followed by a margarita)