Opera teaches children about friendship, music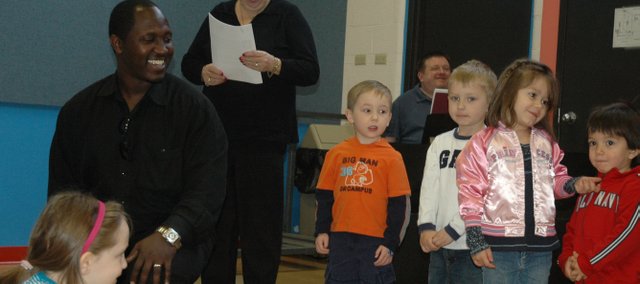 The seeds of one or two budding opera careers may have been planted at the Bonner Springs City Library Monday morning when the Lyric Opera of Kansas City presented a sneak peak of its upcoming musical production "Charlotte's Web."
About 20 kids, along with parents and family members, attended the "Family Fun with Charlotte's Web" event. The hour-long presentation, headed by Lyric Opera director of education Paula Winans, included a performance of one of the key musical numbers from the show. In addition, Winans invited young audience members, and even a few older ones, to come to the front of the room and perform in two scenes.
Winans had help in this endeavor from two "Charlotte's Web" cast members: Robert McNichols, Jr., who will play Wilbur the pig and Sylvia Stoner, who will play Charlotte the spider. Stoner and McNichols performed in the scenes with the audience members and also sang the duet, "Who Says We Can't Be Friends?"
Making friends despite differences is a major theme in the original "Charlotte's Web," a children's novel written by author E.B. White, and its musical counterpart, written by composer Charles Strouse. In between the music and acting activities, Winans talked to the audience about what it means to be a good friend. She said one of the most important friendships that people can have is with themselves.
"If you can treat yourself well, you can treat others well," Winans said.
Winans asked for suggestions from the kids in the audience as to how to be a good friend to yourself. One suggestion raised was to "eat healthy," and another was to say "I like you" to yourself just as often as you would to a friend.
"Charlotte's Web" will be staged in Lawrence and Kansas City. The Lawrence production will be at 2 p.m. Saturday, March 28, at Lawrence High School, 1901 Louisiana St. The Kansas City production of "Charlotte's Web" will be at 2 p.m. Saturday, May 9, on the Copaken Stage in the H&R Block Building in downtown Kansas City, 13th and Walnut. To buy tickets, which are $10 for adults and $5 for kids, contact the Lyric Opera box office at (816) 471-7344.