Teacher has classroom view in election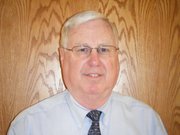 Retirement isn't easy, says Basehor-Linwood School Board candidate LeRoy Scharnhorst.
Scharnhorst has retired from two professions — teaching and engineering — but he continues to work and play an active role in the Basehor-Linwood School District and the community.
"It's hard to stay in retirement, once you get in," Scharnhorst said with a laugh. "I don't know if anyone ever completely retires at first. I like to stay busy and keep giving back to the schools."
For nine years, Scharnhorst taught math and physics full time at Basehor-Linwood High School. He was also an athletic coach and a member of the high school's booster club. His passion for education led Scharnhorst back to the high school post-retirement to do some substitute teaching, which he continues to do when math and physics teachers are absent.
His teaching experience, Scharnhorst said, gives him valuable classroom insight that he could bring to the board.
Scharnhorst also has three grandchildren currently in the Basehor-Linwood school system, which he says provides him with another unique perspective.
"I have experience both in and out of the classroom," Scharnhorst said. "I see situations from the sides of students, teachers and parents."
Before coming to Basehor, Scharnhorst served on the Hickman Mills Board of Education. It was during this time, he said, that he gained experience dealing with critical school issues. Scharnhorst helped the Hickman Mills district pass two bond issues without raising taxes for its patrons.
If elected, Scharnhorst said he wanted to focus on protecting the interests of taxpayers and patrons in USD 458.
He said he didn't necessarily want to change anything within the district, but he wanted to see the district continue the positive work it had already done. Also, he said he wanted to assist the board in staying fiscally responsible.
"I want to make sure that the right financial decisions are made, as the board is already doing well with, and I want to make sure that we always get what we pay for," he said.
Scharnhorst's time as a teacher and school board member make him a qualified candidate for the Basehor-Linwood school board, he said.
"I want to bring a unique perspective to the board," he said. "And I think I could do that. Having a teacher on the board would be a great way ensure that the best actions are taken for parents, patrons and students."
The last day to register to vote is Monday, March 23, and the general election is Tuesday, April 7.