Candidates tackle budget questions at forum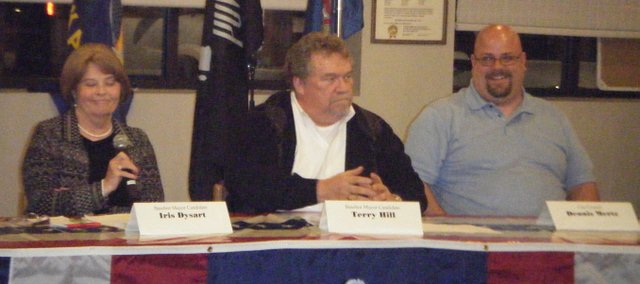 Candidates for the Basehor City Council and Basehor-Linwood School Board gathered at the Basehor VFW Hall Tuesday night to speak to community members about their campaigns. The event, called Meet the Candidates, was sponsored by the Basehor Chamber of Commerce.
Chamber board member Susan Guy read questions for the candidates to answer, and each candidate had the chance to introduce themselves to audience members. Audience members were also invited to ask the candidates questions.
Mayor candidates Terry Hill and Iris Dysart and unopposed city council candidates Dennis Mertz and David Breuer were present. The mayoral candidates were put on the spot first.
Guy asked Hill and Dysart if the city should offer 50 percent property tax abatements for five years to commercial developers or reduce building permits for residential development.
"I don't think we're in a position to do either," Dysart said.
"I don't think our building permits restrict growth as it is, so I don't think those need to be reduced," Hill said. "We need to approach tax abatements in looking at surrounding cities. We have to stay competitive, and if Bonner Springs and Tonganoxie offer tax abatements, we need to consider it."
All four candidates were asked to address the city's budget.
"The budget is a major issue for me," Dysart said. "I don't see the economy turning around for another two years, and we need to adjust expenditures. In the first quarter this year, we've only sold one building permit. That's bad because we're expanding plans for the wastewater treatment plant based on the contention that we will have 100 building permits per year. I don't want tax payers to have to pay for that plant."
"The number of building permits is on the decline," Hill said. "But the real estate taxes don't even show a measurable decline. I don't think it's doom and gloom yet. We only used 73 percent of the general budget last year, so I want people to know that the current staff and mayor are working hard already to control spending. It's not a new idea."
"My hope is that we start to build something on the 2,000 lots we've platted," Mertz said. "We need some kind of incentive on taxes or something for that."
"We do need to stimulate growth on those lots," Breuer said. "I agree that the staff and mayor do a good job reducing costs, and we need to continue that."
The school board candidates were up next, starting with LeRoy Scharnhorst and Leigh Farris, both running for Position 5. Richard Zamora is also running for Position 5, but he was not present at the event.
Board candidates also faced budget questions when Guy asked where cuts should be made.
"Well, we've already started, and we're trying to keep it out of the classroom," Scharnhorst said. "We need to make sure that programs aren't taken away and teachers don't suffer. That's what's important here."
"I'm glad it hasn't touched the classrooms yet," Farris said. "I'd like to keep it that way. We chose this district for my daughters because of the people, and that could be a deciding factor for other families. We don't want to do anything to hurt that."
School board candidates Gary Johnson and Wynne Coleman were also present. Both are running unopposed.
All four candidates were asked how they felt about all-day kindergarten and year-round schooling.
"We're implementing all-day kindergarten right now," Johnson said. "As for year-round, the statistics show that it doesn't work. We probably wouldn't even think about that."
"I'm in favor of the all-day kindergarten," Coleman said. "I think it's a great thing. I don't think year-round schooling would work, though."
"All-day kindergarten is good for both moms and kids," Farris said. "I know that moms appreciate having the time to get their stuff done, and kids learn more during a full day. I have a friend who lives in California where they have year-round school, and I know that there's positives and negatives for that."
"We've always had great success with early childhood in this district," Scharnhorst said. "I think all-day kindergarten is a good extension of that."