'Cats are best of the
KVL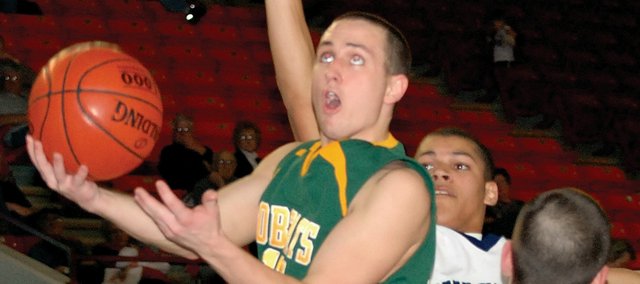 Basehor-Linwood senior boys basketball players Chandler Schaake and Tanner Bowers concluded their careers the way high school basketball players dream about — with a state championship.
In addition to the postseason success, they also earned All-Kaw Valley League first team honors for their play during the regular season.
Freshman Ryan Murphy and senior Anthony Pierce earned honorable mention selections to the team that was voted on by KVL coaches before the Class 4A state tournament in Salina.
"I nominated a lot more than that. If you go another month, put a couple more players on there," BLHS coach Mike McBride said. "It is a competitive league, some of the other kids are just as good. To be quite honest with you, a couple probably got it because it was divided. There is not room on the ballot for everybody.
"The big thing is we nominated a bunch of kids, and four of them got it," McBride said.
Schaake and Bowers led the way.
"We had two senior guards who stepped up and were the leaders," he said. "They were very deserving. They had two of the better stat lines on our team."
Schaake was an All-Kaw Valley League selection for the second time.
"He is the leader of our team and had been for a while," McBride said. "For him to get this recognition is very well deserved."
Schaake shot 76 percent from the foul line, 50 percent from the field and 42 percent from three-point range. He ranks in the top 10 for all-time scorers and is the school's all-time assist leader and second in steals.
In addition to the all-league honors, he was named to the Topeka Capital-Journal's Class 4A All-State team.
While Schaake was a four-year starter, Bowers exploded on varsity this season after playing junior varsity last year. He worked diligently in the team's offseason program to develop his game.
"He showed a commitment in the offseason by never giving up in trying to get better," McBride said.
Bowers averaged 9.4 points per game and shot 38 percent from field goal range. He shot 46 percent from three-point range and was one of the team's leading defenders throughout the year.
Yet, for as much as they did on the court, they were equally pivotal off it. Players would hang out at their homes on weekends instead of going out and getting into trouble.
"How they led off the court, offered them their homes, they let them come over to stay out of trouble," he said. "They did not want the glory, just the goal of state."
In the end, the Bobcats achieved it. Murphy and Pierce also were named to the KVL team, earning honorable mention selections.
Murphy averaged 9 points per game, shooting 60 percent from the floor.
"Not that many freshmen can say that they shot 60 percent from the field, but ours did," McBride said.
Murphy was a solid inside presence for the Bobcats, and a leader in rebounding, blocked shots and field goal percentage.
Pierce came on late for the Bobcats to earn honorable mention. He earned a starting spot in the Bobcats' lineup during the season and impressed KVL coaches with his play. He also was an honorable mention selection to the Wichita Eagle and Topeka Capital-Journal Class 4A All-State teams this season.