Incumbent looking forward to future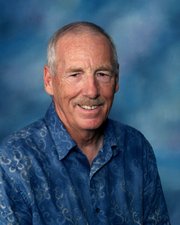 Incumbent Gary Johnson is seeking re-election for the Basehor-Linwood School Board in the hope that he can continue to help the board do positive work.
Johnson said he wanted to keep the Basehor-Linwood School District moving as it had been during the last four years of his term.
"Everything seems to be going well right now," Johnson said. "We have more ups than downs here by far, and I'd like to help it stay that way."
Johnson was elected to Position 6 on the board in 2005, which covers all territory south of the Sherman Township boundary line at Kansas Highway 32 and Hemphill Road, extending to the Kansas River. He retired three years ago from the Union Pacific Railroad and has lived in the Basehor area since 1952.
One of the issues Johnson said he enjoyed most about being a board member was seeing policies the board implemented work for the students.
"We make the policies, and our job is to make policies that benefit the students," he said. "Someone once told me that I was on the board to do what parents wanted, and I said, 'No, I was elected to do what's best for the students.' That's the most important thing."
At the end of the day, Johnson said, if he had made decisions based on what would make students' lives better, he felt he had done a good job.
"If you go in and tell yourself you're here for the kids, and you always strive to do the right thing for them, you have to be happy with yourself," Johnson said.
Johnson has a sure way to find out how the board's policies affect students in the district: He has two grandchildren and 10 great nieces and nephews who attend schools in the Basehor-Linwood district.
"You could say I have a personal interest in what our decisions do for students," he said. "My family members keep me posted."
The board is facing one of its biggest challenges right now, Johnson said. The inevitable budget cuts and fee increases will be difficult for board members, he said, but he wants to remain in his position to aid the district with that process.
"It's not going to be easy," Johnson said. "It hasn't been easy so far, but we're trying to keep it from hurting students and teachers, and I'd like to make sure that we do whatever we can to minimize the effects of it all."
The general election is Tuesday, April 7.