Wyandotte County image key to future development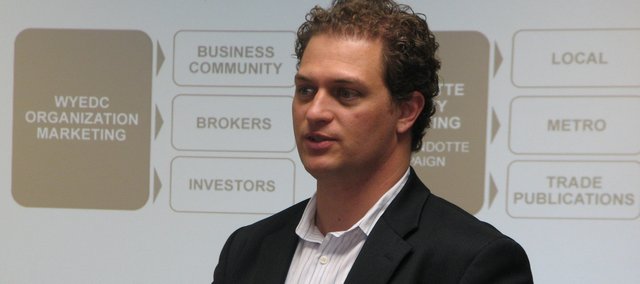 Wyandotte County has dealt with the economic recession fairly well, but it has some image and reputation issues to conquer.
President of the Wyandotte Economic Development Council Brent Miles spoke to Basehor Chamber of Commerce members on March 19 about what was happening in the county. Miles said the development council focused on several major issues to help Wyandotte businesses grow and stay alive.
"We do four things," Miles said. "If something isn't part of those four things, we don't do it. We focus on business project attraction, business retention, marketing and promotion, and workforce and development training."
One of the things that the organization has to overcome, Miles said, is the negative perception of Wyandotte County that many people harbor.
"Aside from Village West, we have an image problem," he said. "People tend to think that Village West is some kind of island floating out there, and it's not really part of Wyandotte County, but it is. It's a very important part of the county."
Despite its reputation, Miles said the county experienced growth late in 2008, which was something that no other county in Kansas could proclaim.
"Wyandotte was the only county in the state that had positive job growth during the fourth quarter last year," Miles said.
Industrial companies are the bread and butter of the county, Miles said. Wyandotte has 27 million square feet of industrial space, and it employs 89,000 workers, or one-fourth the amount of workers that Johnson County has.
Miles said unemployment in the county had remained stable, and the KU Medical Center and General Motors were the largest employers in the county.
"GM is moving to four brands," Miles said. "They have GMC, Chevy, Cadillac and Buick, and Wyandotte has the third strongest GM facility out of 47. GM will put its eggs in its strongest basket, and we have one of the strongest baskets with 3,000 employees at our plant."
Miles also addressed one issue on most Wyandotte and Leavenworth county residents' minds: the casino.
"In my opinion, the casino will happen, as well," Miles said. "We had trouble with that the first time around, but we're going through the process again, and in my opinion, it will happen."