Five questions:
PTK

is on the way
LCDC

hires firm to help sell the county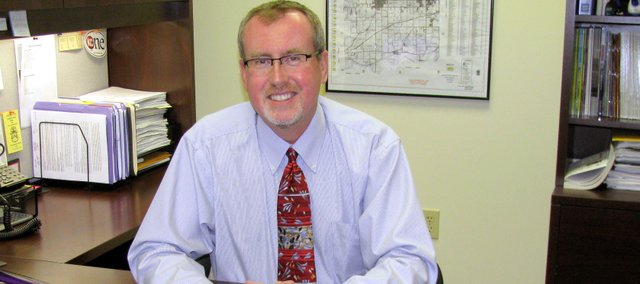 Q: Why does Leavenworth County need help from an outside marketer?
A: Leavenworth County Development Corporation has been working to improve economic growth in the county since 1981. LCDC's primary mission is to coordinate and facilitate the retention, expansion and attraction of primary businesses within the county.
Because economic development is so competitive today, it is crucial that we are able to clearly articulate and communicate the county's competitive advantages in order to effectively market the county as a desirable place to live, visit and locate a business. The goal of hiring a professional marketing firm to assist in this effort is to clarify our brand, create more focus in our message and become more aggressive in raising the visibility of our county among decision makers.
For many years, LCDC has used a volunteer-based committee for marketing the county. Recent marketing efforts have included print ads and articles placed primarily in business journals in the Kansas City area along with outreach to national site location consultants. A professional marketing firm can bring an outsider's view to help us evaluate our current approach to strategic communications and can help us become more proactive and effective.
Q: What qualifications make PTK appealing?
A: LCDC reviewed the qualifications of several companies that responded to our request for proposals. PTK appealed to us for a variety of reasons.
When we spoke with a Kansas City-based developer about PTK he said, "They 'get' economic development." For example, they were involved in the attraction of the NASCAR race track to Kansas City and, while working for Wyandotte Development Inc., they played a role in much of the success of our neighboring county. In fact, they are responsible for components of marketing Village West at the Legends.
Another reason we liked PTK is that, while they may offer an outsider's opinion, they are now located in Bonner Springs, so they already know the area well. Many of the private sector companies they work with are located in the area, and they have done work for development-related entities, like building contractors and utilities.
Finally, their creative people have impressive resumes that include the original development of the Sonic television ads featuring the two guys in a car and the tag line for the Kansas Lottery, which is still in use today.
Q: What will PTK's scope of work be?
A: PTK's scope of work will include assessment of LCDC's current Web site and suggested modifications and enhancements, the development of collateral materials, including our annual report, membership brochure, folders and a direct mail piece communicating the benefits and uniqueness of living, working and doing business in Leavenworth County, and the development of three campaign ads that will run in very targeted trade publications.
Q: What is your timeline for PTK to start marketing the county?
A: The process began April 15-16, when we brought in representatives from each of the cities and the county to meet with PTK in a collaboration session that identified targeted audiences as well as strengths and weaknesses of the county. Refining the message and developing individual components of the scope of work will begin this month. Individual pieces will be rolled out during the year as they are completed with a goal of finishing this work plan by the end of the year.
It should be noted that PTK's role will be in developing tools that the professional staff at LCDC and our volunteer membership can then use to market the county.
Q: What will this cost the LCDC?
A: Our budget for 2009 related to PTK's scope of work is $35,000.