KDOT

hears criticism of interchange plans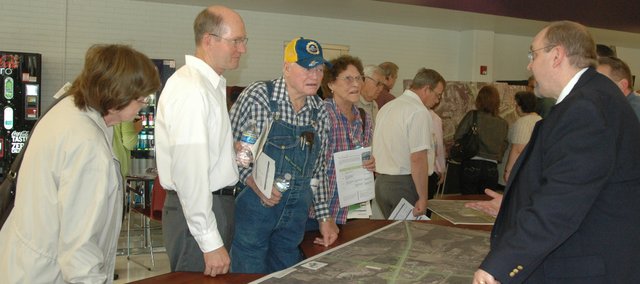 About 120 people showed up Tuesday night at Bonner Springs High School to attend a public meeting regarding the Kansas Highway 7 and Interstate 70 interchange project.
Officials from both the Kansas Department of Transportation and GBA Architects Engineers were on hand to answer any questions visitors had about the project, which will create a tri-fold system of interchanges at K-7 and 130th Street, K-7 and I-70 and K-7 and Kansas Avenue. In addition, visitors were given the opportunity to fill out comment sheets with questions or concerns, view diagrams of the different phases of the project and watch a film of how the interchange system will look and how traffic will flow throughout.
Kim Qualls, public affairs manager with KDOT, said the diagrams and film shown at the meeting made up only the final concept of the project; a preliminary design leading up to a final project plan was still being worked out by KDOT and GBA. She said public meetings were important in keeping the doors of communication open between KDOT and residents.
"It gives them an opportunity to review what's there and to understand and to ask questions," Qualls said. "We want to get all the input so as we proceed forward … we can look at what everybody's concerns are."
Some at the meeting seemed happy with the final concept. Bonner Springs resident Bob Cutting said he was thrilled with the idea of seeing a reduction in traffic at the current K-7 and I-70 / Canaan Center Drive interchange.
"Anything they can do to improve the traffic through there would be great," he said.
Others expressed concern that it would affect business around Canaan Center Drive. Phil Hammond, vice president of sales with Kansas City-based brokerage company The Land Source, said his concern was that easy access to Canaan Center Drive and the lucrative business sector would be things of the past with the proposed project.
"I'm representing clients around Canaan Center. It's an interstate service area, and if you don't have easy access to it, it's not gonna be an interstate service area," Hammond said.
He said the meeting was just a way for KDOT to tell people what it had already decided on, not to get any feedback.
"This is the result, not input for it," he said. "Over the whole global thing, they're basically saying 'tough.'"
Reducing the amount of traffic at the current interchange is a good plan, said Bonner Springs planning commissioner Robin Neal, but KDOT might be going too far.
"I think there's a traffic congestion problem, but I think this plan is overkill and affects economic development in Bonner Springs," Neal said.
Aaron Frits, road squad leader for KDOT, said in an introductory presentation that meetings with various stakeholders, including Bonner Springs city staff, had been conducted in addition to the public meetings. He said comments and questions such as those heard Tuesday night were imperative in the development of the project, and it wasn't too late for changes to be made.
"We want your feedback, we appreciate your feedback," Frits said. "It's at the stage where we can still make changes to the layout if there is any big concern."
Another public meeting will be sometime in mid-2010. There is currently no funding available for the interchange project, but construction on a second left-hand turn lane onto southbound K-7 at the I-70 / Canaan Center Drive intersection is set to begin in June and be complete by the end of the summer. For more information, visit k7andi70interchange.org.