Mother grapples with loss of son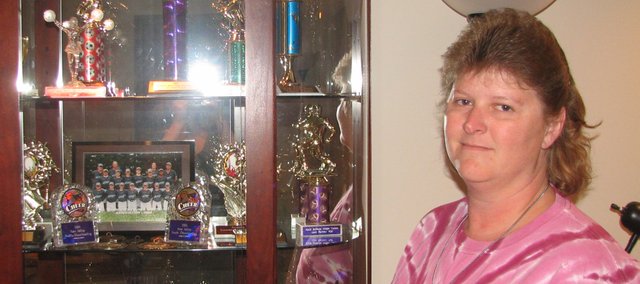 Vera Gaffney wipes a tear away as it slides down her cheek.
"It's still hard," she says as her voice fades softly. "Every day it's still hard."
It's been one year since she and her husband, Tim, lost their son, Josh, in a car accident. Mother's Day stirs a pool of emotions for Gaffney, as she remembers her son, who would have been 16 on May 29.
Mother's Day 2008 was only three weeks after Josh's death, and Gaffney has spent the year trying to find a balance between honoring her son's memory and caring for her other two children, 11-year-old Amber and 20-year-old Dennis. Her sadness lies in thoughts of the holidays she won't be able to spend with Josh, but she discovers some joy when she remembers she will have many holidays with Amber, Dennis and Tim.
Amber, Gaffney said, has been an unwavering source of inspiration during the last 12 tragic months.
"My daughter has truly been my strength," she said. "She is so strong, and she's been there helping me every step of the way."
Gaffney said she found relief in staying busy. She, her husband and Josh's former baseball coach organized a scholarship in Josh's name for two high school seniors, and Gaffney said working on this helped her. The scholarship is funded through an annual golf tournament at Falcon Lakes and will be awarded to one female and one male scholar athlete each year for five years.
Between the scholarship work and attending Amber's dance and gymnastics events, Gaffney is able to keep thinking positively. She has always been involved in her kids' activities, she said, and she feels she has worked up the courage to go to one of the high school's baseball games.
"One thing that's hard about all of it is I miss the boys," she said of Josh's friends. "I miss them coming around, and I miss going to their games. I have to start doing that again. I just have to."
This Mother's Day, Gaffney said she was looking forward to spending some time with her husband and daughter. She said they were going to have a quiet day at home.
"We don't have a whole lot planned," she said. "We'll probably just be here as a family."
Family time is important to the Gaffneys, and Josh contributed to the dynamic in a special way. Gaffney said she was glad they had built such a strong bond together.
"I don't have any regrets," she said. "We did a lot as a family, and I'm thankful for that. We're starting to do those fun things again. We're starting to go out again, though it won't ever be the same."
Each day, Gaffney focuses on keeping her happy memories of Josh alive and on building a future for her other children. Each day is a struggle, she said, but she is remaining strong and holding onto the knowledge that her pain will ease with each passing season.
"We've just been living one day at a time," she said. "That's all a person can do. We'll continue to honor him and start moving forward with our lives and just take it one day at a time."
For more information about the Josh Gaffney scholarship, or to find out how to make a donation, go to joshgaffneymemorialgolftournament.com.