New gym to offer Basehor a unique workout experience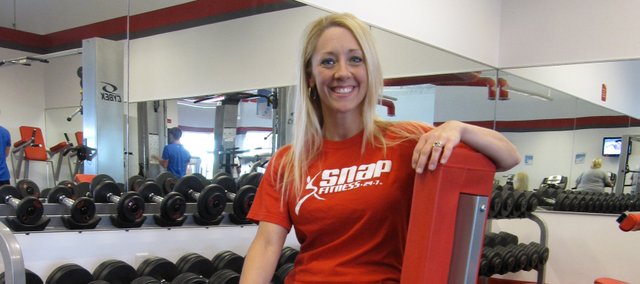 A unique fitness chain is making its way to Basehor.
Owners of Snap Fitness in Shawnee, Matt and Jen Rhodes, plan to open a center in Basehor sometime this year.
The Shawnee Snap Fitness, 5424 Roberts St., opened two years ago, and Matt Rhodes said business had been great.
"We've had a lot of success in Shawnee, and we knew we wanted to open up a second facility," he said.
Basehor's growth potential and proximity to Shawnee made it an ideal location for the next center, Matt said.
"You can see (Basehor) growing, and it's so close to the area we're in now," he said. "It just seemed like the right choice."
Matt said he and Jen had been looking for the perfect spot in Basehor to start building the new gym, and they hadn't narrowed it down yet. He said they were considering using an open building in Basehor but were open to constructing one as well.
"We're trying to get this finished by the end of the year, regardless of what facility we choose," Matt said. "If we have to build one, we'll do it. The economy is slow, so building is slow, but we've been doing extremely well in Shawnee, and we're confident this new gym would do well too."
Snap Fitness offers its members a fast, convenient and affordable way to get healthy, Matt said. The gym is open 24 hours a day, seven days a week, so members can work out whenever their schedules allow. A staff member is on hand from 11 a.m. to 3 p.m. and 6 p.m. to 9 p.m. Monday through Thursday, 11 a.m. to 3 p.m. on Friday and 9 a.m. to 1 p.m. on Saturday. During these times, members can receive assistance from staff or potential members can take a tour of the facility. Outside these hours, gym members have access to the building with a keycard.
Matt says another unique element to Snap Fitness is its sign-up process. The gym has no contracts, and members can pay on a month-to-month basis.
"We just don't do contracts," he said. "People aren't going to be able to work out regularly each month. For instance, we have a lot of teachers who are trying to finish the school year now and don't have time to come in. It's not fair for us to continue taking their money when they aren't working out."
One of the goals of Snap Fitness, Matt said, is to provide a comfortable place for people to get in shape. Matt says the gym has a non-threatening, non-intimidating environment with friendly staff.
"My wife is so involved with the business," he said. "We have 700 to 800 members, and she knows 99 percent of their first and last names and knows the kids' names of about 90 percent of them. She works hard to make sure people enjoy coming in."
One reason why Jen has such a connection with the members is her own memories of struggling with weight. Jen says she can relate to people who are trying to change their diets and lifestyles.
"I used to be 200 pounds," she said. "It took me nine months, but I lost 80 pounds. I know it's possible, and we think this is a great place for people to get started."
Both Matt and Jen are eager to open the doors to the Basehor Snap Fitness.
"We're excited about it," Matt said. "We think it will be really well-received in the area."
For more information, go to the Snap Fitness Web site at snapfitness.com/shawnee, or call the gym at (913) 441-9496.