Record-breaking game adds to Bobcats' lore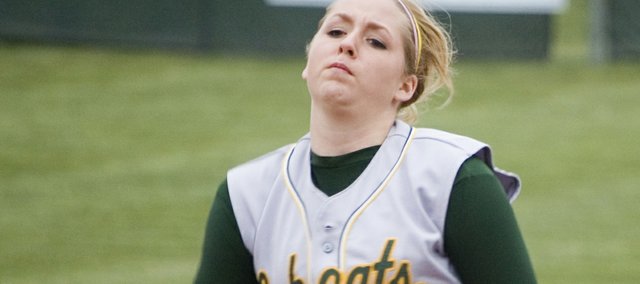 Basehor-Linwood and Lansing High School played in a record-breaking game last week.
The game, which Lansing won 2-1 on April 28, lasted 23 innings. That is believed to be a state record for the longest high school softball game in Kansas history.
Basehor-Linwood athletics director Joe Keeler contacted the Kansas State High School Activities Association and checked to see if it was a record.
There was no record of any game lasting longer.
The game also featured a pitching record falling. Lansing pitcher Brittney Lang struck out 40 batters. The old state record for an extra-innings game, according to the Kansas Sports Hall of Fame, was 34 by Jessica Hoppock of Wichita Campus in 2003 against McPherson.
Lang and BLHS pitcher Shelby Pierce combined for 61 strikeouts in the game.
BLHS coach Susan Mayberry said the length of the game and the quality of performances turned in during it spoke volumes about both the Bobcats and Lions.
"I think it speaks for itself if you are here as a fan of softball," Mayberry said after the game. "We are a team of fighters and not going to back down from anyone. There was a league title on the line and we wanted to win it."
Mayberry never really put into context what it meant in history. She just focused on the games and the tasks at hand.
She is proud of the way her athletes battled, but disappointed that the team fell short in its bid for a victory.
The game, in many ways was indicative of everything that Mayberry wants her program to be.
She wants a team of fighters that will not back down from an opponent. She wants a team that will play any size school, and believes it can win.
When the game was over, it was decided that game two would not be played. Mayberry objected to the decision.
"The kids wanted to play," she said.
Mayberry wanted to play because another game is a chance to improve and continue to work, principles that have contributed to her team's success during her time at the school.
THE MASTERPLAN
In some way, the four-hour game against Lansing was an embodiment of what Mayberry hoped her program would become.
Mayberry has established the program during her 11-year tenure at the school.
She arrived in Basehor-Linwood after coaching at Shawnee Mission East from 1992 through 1996. When she took the job at Basehor-Linwood, Mayberry was returning to her alma mater.
She played at BLHS the 1980s before going on to Pittsburg State University and playing softball and volleyball. Back in those days you could play both sports, she said.
When she got the job in Basehor, she wanted to build a team that was difficult to beat. She wanted to build an elite softball program.
Mayberry has a 160-91 record, which is a winning percentage of .637. The Bobcats have never finished below fourth in the Kaw Valley League.
TIME AND COMMITMENT
There are secrets to the Bobcats' softball success. One is opportunity. Mayberry travels the country attending coaching clinics and has made connections, which bring talented coaches and players to Basehor for clinics and help sessions.
The goal is to give the players as much quality coaching as possible to make them top players and educate them during the summer months.
They also start playing softball at a young age in Basehor. Mayberry puts on softball clinics in the summer for youth softball players, which has helped them grasp the tradition.
The city's youth program helps, too.
"Expectations are high when they get to high school," Mayberry said. "The tradition is here and it is something that rolls over from class to class."
Another key is hard work. The players might not always be the flashiest, but they will work hard and be difficult to beat, as evidenced by the aforementioned 23-inning game.
Yes, it was one game, but Mayberry isn't dwelling on it.
The Bobcats are 11-4 this season and eyeing a trip to the Class 4A state tournament when regionals begin on May 18. The teams in the regional are Atchison, BLHS, De Soto, Eudora, Bishop Ward, Piper, Sumner Academy and Tonganoxie.
If the school qualifies for state, it would be the team's fifth during Mayberry's tenure. The program has a third-place state finish to its credit. The program also has won one Kaw Valley League championship, finished in second place once and third place three times.
Yet, for all the team accomplishments, Mayberry is equally pleased with the fact that 35 seniors have played for her at BLHS and all of them received an offer to play college softball.
From this year's team, Tiffany Jennings has signed to play at Kansas City Kansas Community College and Annie King will play at Hutchinson Community College. Kara Douglas was offered to play NCAA Division II softball, but opted to attend Kansas State.
"If any player who wants to go on and play collegiate ball, I will help them make that connection," Mayberry said.
HONORING TRADITION
Monday is senior night and also alumni night. Alumni are invited back and about 10 are expected to attend, depending on their schedule. Both the seniors and alumni will be honored between games.
A disc jockey will play music at the game and the first pitch will be thrown out before the game one by BLHS parents to their daughters. It is a way for them to reflect on past accomplishments and potentially inspire future players to be a part of the tradition.
"It is a big deal for us and our program," Mayberry said. "Hopefully, we will get a big crowd out for it."