Stephan's Service reaches milestone of 50 years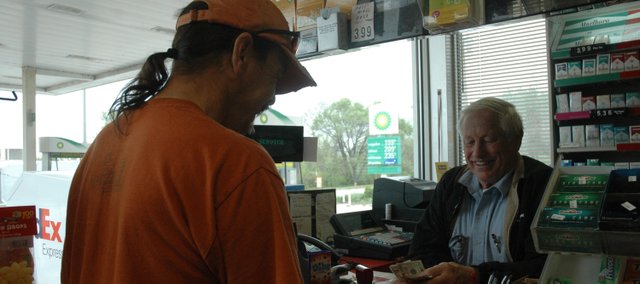 The current recession and a number of 1960s-era gas wars — where neighboring gas stations compete for the lowest price — haven't been enough to close the doors of Stephan's Service.
At least, not for very long, says Bill Stephan, who owned and operated the full-service gas station and auto body shop since it opened in 1959 until 2002, when his son Craig took over. Stephan's Service is celebrating its 50th anniversary this year and to date, Stephan said, there has only been one single deviation from regular seven days a week business hours.
"We had to shut down Sundays, because there was no fuel," Stephan said of the oil crisis in 1979 that left a nationwide fuel shortage in its wake.
Stephan, who still helps his son at the shop, said he took a certain level of personal pride in this fact, noting how business was handled through another probable closing adventure: A large remodel of the shop and gas pumps that spanned the years from 1996 to 1997.
"We never closed one single day through it all," he said proudly.
Stephan moved here, with wife and two kids in tow, from Grand Prairie, Texas in 1958 to open a gas station in the town where his brother lived. He opened Stephan's Standard in March of 1959. A timeline in the window of Stephan's Service tells the story of several changes and new developments that have occurred since that first opening. For example, in 1974, Stephan's Standard changed to Stephan's Amoco, and in 1976, Stephan's Amoco opened the first automatic car wash in Bonner Springs. In 1984, Stephan's Amoco changed to all unleaded fuel, and in 1998, BP and Amoco merged, creating the need for another name change: Stephan's Service.
Stephan said the longevity of his business had been the product of an upbringing where he was taught to finish things he starts and to see challenges through to the end, no matter how hard they may seem.
"We come from a family that never quits," he said. "Once you start something, you see it through. You don't just give up and quit."
He said he must also give props to his son Craig for keeping him active in the business. Craig, who bought the business from Stephen in 2002, used to help his father in the shop all through high school and college. Stephan said, really, it was a fair tradeoff.
"If he didn't take over, I still wouldn't be here," Stephan said. "He worked for me, now I work for him."
Remaining open for 50 years is quite a feat, Craig said, and Stephan's Service has acquired its fair share of regulars out of the hundreds of people it serves on a daily basis. There is Bonner resident Lois Schaffe, for instance, who has been coming to Stephan's Service since the day it opened. Then there is resident Tim Creasman, who said he had been coming off and on for about five years.
With 50 years of waiting on people under his belt, Stephan can reasonably make this joke about Creasman: "He's a new customer."
In honor of the 50th anniversary, Stephan's Service will be giving away one $50 gas card a month, starting in June and going through the rest of the year. Call Stephan's Service at (913) 422-7092 for details.