Actor Sinise plays real-life supporting role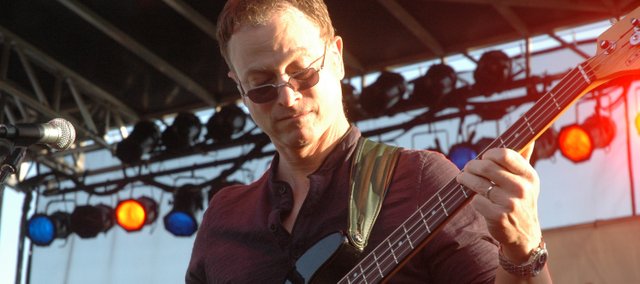 By now, actor and musician Gary Sinise says he's used to having an all-too familiar movie line thrown his way: "Lieutenant Dan, you've got no legs!"
"I say, 'Hey, I've never heard that before,'" Sinise, who played the Oscar-nominated "Forrest Gump" character in 1994, said jokingly in a press conference prior to Friday night's Lt. Dan Band United Service Organizations concert at Fort Leavenworth.
The concert, sponsored by TriWest Healthcare Alliance, was in conjunction with Military Spouse Appreciation Day, but this wasn't the Lt. Dan Band's first visit to Fort Leavenworth. The 12-member cover band, which has performed with the USO on more than 28 tours overseas and here in the states, made a stop at Fort Leavenworth in 2007. Sinise said the base had a special place in his heart because of his brother-in-law, Lt. Col. Boyd Harris, who was posted at Fort Leavenworth and died of cancer there a number of years ago.
"I'm glad to be back at Leavenworth," he said.
At Friday night's concert the Lt. Dan Band, for which Sinise plays the bass, played such diverse covers as Lynyrd Skynyrd's "Sweet Home Alabama" and "Teenage Wasteland," by The Who. During a rousing rendition of Patti LaBelle's "Lady Marmalade," members of the Lt. Dan Band showed their own appreciation for military spouses by inviting a crowd of women from the audience to come up and dance with them onstage.
Sinise said the Lt. Dan Band has performed 30 to 40 shows on U.S. bases, and these shows were important to both service members and their families because of the message of support it sends them.
"We can't forget that our troops are out there and they're deployed," he said in the press conference. "I think it's very important to keep them in our thoughts and prayers."
More of this story can be found in the next issue of the Tonganoxie Mirror, out May 13, or the Basehor Sentinel and Bonner Springs Chieftain, out May 14.