Shrine rodeo coming to town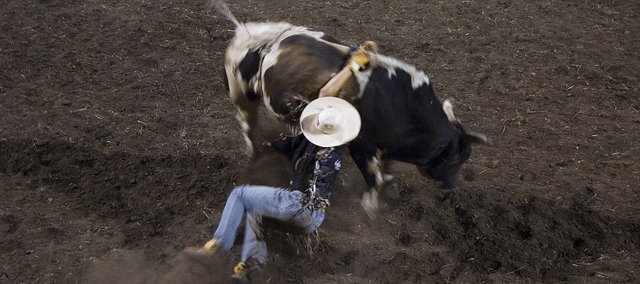 The month of May in Tonganoxie means the end of the school year, the beginning of the pool season and more recently it has also meant it is time for the rodeo.
For the third straight year, the Abdallah Shrine Rodeo will call the Leavenworth County Fairgrounds home.
Dennis Schurr, the Abdallah rodeo production manager, said the Shriners weren't planning on doing anything special for the rodeo's 50th anniversary, but they were excited to continue making themselves "a little more at home in Tonganoxie."
For several weekends, the Shriners have been coming to the fairgrounds and getting ready for the three-night event.
Schurr said he doesn't even want to count the number of man-hours that have already been worked in order to get the grounds ready for the nearly 9,000 spectators and nearly 350 competitors each year.
In 2008 the Shriners gave out more than $30,000 in prize money to the rodeo riders competing in the professional rodeo cowboy association.
Schurr said he recently spoke with the rodeo's stock contractor and he expects there to be maximum competitors this year.
"Now we just need people to come by and fill the seats," Schurr said.
Beginning at 7:30 p.m. May 21, people will once again come out to enjoy three nights of bareback riding, barrel racing, mutton busting and, of course, the popular bull riding.
Besides the rodeo, the Shriners also are sponsoring a carnival, a craft show and an antique car show that will run from noon to 4 p.m. May 23.
"The Shriners have always strived to make the rodeo something that was family friendly, and it really is," said Ruth Nicolaus, rodeo spokeswoman. "Tickets are only $10 for adults and children under 12 (years) get in free."
Tickets can be purchased and more information can be found on the rodeo's Web site at www.shrinerodeo.com.