BBQ

festival prepares for Sandstone debut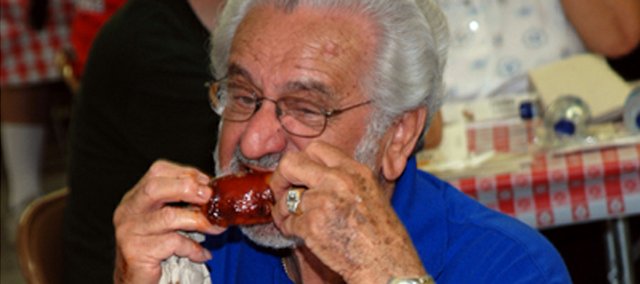 When a sweet, tangy, smoky aroma begins to fill the air next week, it will be a good sign the Great American Barbecue Festival has arrived.
The festival will take place Memorial Day weekend, May 22-24, and will, for the first time ever, be at the Capitol Federal Park at Sandstone.
Originally staged annually at The Woodlands in Kansas City, Kan., the event is celebrating its fifth anniversary this year, said Tracy Satterfield, executive director of the Great American Barbecue Festival.
Though the theme of the weekend is all about barbecue, Satterfield said there was more to the event.
"Our whole purpose is food, fun and philanthropy," Satterfield said.
Every year, the festival chooses five Kansas City-based charities with which to donate all of the proceeds and much of the leftover food. The five beneficiaries this year are Wyandotte County Parks Foundation, Kooker's Kare, Fox 4 Love Fund for Children, Guadalupe Centers and St. Mary's Food Kitchen.
Food and fun is, of course, just as important to the festival's success as the philanthropic side of the equation, and Satterfield said those who attend will get to participate in and witness a number of barbecue and eating contests as they always do. She said there would be a few changes to the schedule, as well.
For example, in the spirit of having the festival at a music venue, Satterfield said much more emphasis would be placed on music this year. Though there has been music at every Great American Barbecue festival, this year each day will be thematic in its music lineup.
"We've gone to the next level of having a more fun, more focused event towards music," Satterfield said.
Friday's theme will be blues and jazz, where such acts as John Joiner Band, a country band with a Texas blues influence, and The Silvermen, a rockabilly and blues band, will perform. Those attending on Saturday will see an array of country and 80s rock bands. On Sunday, there will be showcase in which Led Zeppelin, AC/DC, ZZ Top, Journey, Lynyrd Skynyrd and the Beatles tribute bands will perform.
Satterfield said another change would be entertainment in the kid zone, where performers from the upcoming Renaissance Festival, magicians and players with the Kansas City Wizards will make an appearance.
"It's a lot more interactive," Satterfield said of the kid zone.
Competitions include the 2009 Open Contest, where contestants must compete in four different barbecue categories: brisket, pork ribs, pork shoulder or butt and chicken. Satterfield said $70,000 in cash prizes would go to competitors in the open contest, in addition to $20,000 in trophies, smokers and sponsor-donated gifts.
Another featured competition will be the 2009 Kidz Que, which is a barbecue contest for children in the kid zone. Children ages 5 through 15 may participate in cooking a pork chop or steak, depending on their age group, with parental supervision. In this contest, judging will be based on appearance, tenderness, texture and taste.
Other highlights throughout the weekend will include culinary demonstrations, a rib-eating contest and a people's choice sample tent, where visitors can sample an assortment of barbecue sauces, bastes and rubs on different meats and vote for their favorite.
Admission to the Great American Barbecue Festival is $10 per day and $15 for the entire weekend. And for those who don't intend to go to the festival, Satterfield said she's fairly certain they won't be able to stop themselves once they "smell all that wonderful barbecue cooking."
"We hope everybody's noses just follows themselves to Sandstone," she said.
To register for the 2009 Kidz Que and Open contests, for a complete schedule of music and events or to purchase tickets online, visit thinkbbq.com.
Great American Barbecue schedule of events
Friday, May 22
• 6 p.m. to 10 p.m. – BBQ Blues Party
• 6 p.m. to 6:45 p.m. – John Joiner Band performs
• 7 p.m. to 7:45 p.m. – The Transients performs
• 8 p.m. to 8:45 p.m. – Jobu performs
• 9 p.m. to 10 p.m. – Platinum Express performs
• 10 p.m. – fireworks display
• 10:15 to 11:15 – The Silvermen
Saturday, May 23
• 8 a.m. to 12 p.m. – Kidz Cue
• 11 a.m. to 11:20 a.m. – Marching Cobras
• 11 a.m. to 4 p.m. – People's choice sample tent hours
• 12 p.m. to 7:30 p.m. – Culinary demonstrations
• 1 p.m. to 1:45 p.m. – The Transients performs
• 2 p.m. to 2:45 p.m. – Jobu performs
• 3 p.m. to 3:45 p.m. – Big Foam Finger performs
• 4 p.m. to 4:45 p.m. – Miss Major and her Minor Mood Swings performs
• 5 p.m. to 5:45 – BBQ Awards ceremony
• 6 p.m. to 6:45 p.m. – Jr.'s Flat Six performs
• 7 p.m. to 7:45 p.m. – County Road 5 performs
• 8 p.m. to 8:45 p.m. – Emily Rose Band
• 9 p.m. to 10:20 p.m. – Trampled Under Foot
• 10:20 p.m. – Fireworks display
Sunday, May 24
• 11 a.m. to 4 p.m. – People's choice sample tent hours
• 12 p.m. to 1 p.m. – Culinary demonstrations
• 12:30 p.m. to 1:15 p.m. – Stairway to Zeppelin performs
• 1:30 p.m. to 2:15 p.m. – Eliminator performs
• 2:30 p.m. to 3:15 p.m. – KC/DC performs
• 5 p.m. to 6 p.m. – BBQ awards ceremony
• 6 p.m. – Horizon smoker raffle
• 6:30 p.m. to 7:15 p.m. – Edge of Forever performs
• 7:30 p.m. to 9 p.m. – Liverpool performs