Bobcats earn Senior Night sweep
Basehor-Linwood softball squad pounds Bonner Springs for pair of victories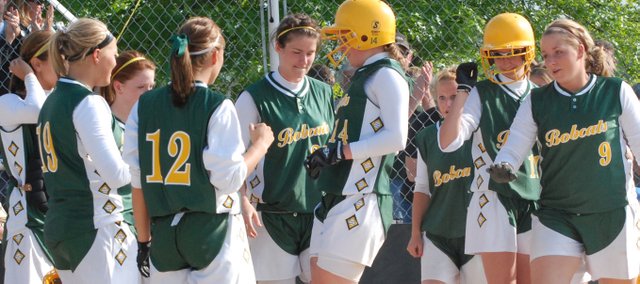 Photo Gallery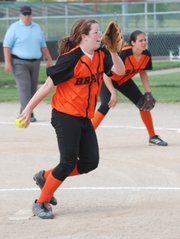 Basehor-Linwood sweeps Bonner Springs in softball
As far as Senior Night is concerned, it was a dream come true for Basehor-Linwood softball coach Susan Mayberry on Monday, May 11, at Field of Dreams.
Alumni returned. Seniors were honored and their parents tossed out the first pitches before the second game of the doubleheader.
A disc jockey kept the music rolling in between innings as the Bobcats found a rhythm and defeated Bonner Springs in successive games, winning 10-2 and 10-1.
"I thought the games went great," Mayberry said. "Our offense came alive, we played solid defense and our pitching is continuing to be better and better. The girls relaxed and just played. It was fun."
The victory in game one didn't come without a little drama. After battling through two scoreless innings where each team recorded just one hit, Bonner Springs plated two runs in the top of the third. Starian Porchia earned a one-out walk. Breanna Tendick collected an infield single. Then Kylee Timberlake ripped a base hit to right field that brought both runners home for a 2-0 Bravette lead.
BLHS responded moments later.
After a leadoff out in the bottom of the third, Caylee Smith bunted for a single. Then Megan Rehm reached base on a fielder's choice. Hannah Tush bunted for another base hit and loaded the bases. Kara Douglas singled to left and plated two runs. Then Shelby Pierce laid down a bunt, reached on an overthrow and watched another run score. Tiffany Jennings followed with a single that scored a run. Tara Chumley laid down another bunt that led to another error and another run scoring. Then Rachel Neal reached on a fielder's choice that plated a run. Annie King singled, Smith brought home a run with a ground out and Rehm doubled to left, scoring King to cap the nine-run explosion.
Rehm jacked a solo home run in the fifth inning for the Bobcats' final run of the game.
In between games, Basehor-Linwood honored 11 alumni who played for the program. The list included Bonner Springs coach Kara Reed Wardlow.
Wardlow, who is in her first season coaching at Bonner Springs, said the game was not much different than the others she had coached.
"I approached it as any other game," she said. "I respect coach Mayberry as a coach and the talent she puts on the field. They play very well."
Mayberry joked that she felt a little bit old coaching against one of her former players.
"Kara was such a fierce competitor in high school," Mayberry said. "She is one of the reasons our teams were so successful during her high school career. Not many players can say they won three regional championships, going to the state tournament three times and finished as high as third at state. I remember many times Kara played with nerves of steel. She was such a clutch leadoff hitter for us. She is now in a position to convey those attitudes and attributes to her players. I wish her well."
Reed has the experience of playing at Basehor-Linwood to build upon as she tries to build her own program at Bonner Springs. She took over the team during the middle of the season and has begun molding the program the way she wants it to be.
"You have to break it down and build it back up to get the program up and running," she said. "These girls play with heart and are a good group to be around."
In addition to the alumni that returned, Basehor-Linwood also honored its seniors in between games.
King, Douglas and Jennings were honored for their play on the field, along with manager Sarah Laffere, who played earlier in high school and managed the last couple years.
The ceremony allowed players to thank people, and Mayberry to discuss each player's career. She is proud of this year's seniors and what they have accomplished.
"They have contributed tremendously to our program," Mayberry said. "To have two four-year starters in Annie and Kara, and Tiffany, who joined the varsity team last year, has been important. Sarah Laffere is our senior manager and
she's been terrific with breaking in the new coaches and managers this
season. All four of these kids have been outstanding role models for our
younger players."
Following the senior ceremony, Jennings took to the mound and earned a 10-1 victory in the second game.
Basehor-Linwood scored two runs in the first inning when Rehm reached base and scored on a passed ball. Tush also scored in the inning.
Bonner Springs scored one run in the top of the second inning.
Basehor-Linwood scored three more runs in the bottom of the inning.
Neither team scored again until the fifth inning when BLHS punched another run across the plate. Jennings scored on a fielder's choice when King hit the ball to the shortstop.
The Bobcats continued to pile on runs in the sixth inning, scoring four more runs. Two runs came on a double by Douglas. She later scored on a passed ball. Shelby Pierce also scored in the game.
The win concluded Basehor-Linwood's regular-season competition. The team will play in regional competition at Eudora beginning Monday.