Historic intimates
Basehor museum shares story of women's undergarments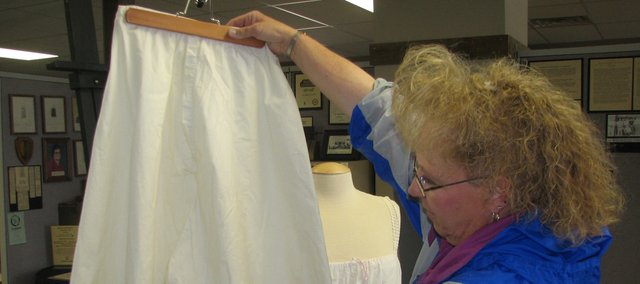 The Basehor Historical Museum has unveiled an intimate exhibit.
"Victorian Secret" is the playful name of this new museum display, which opened this month and presents the history of women's undergarments.
"We were really excited to get it," museum director Carla Crawford said. "It took us forever to put up."
Looking at the different pieces fashioned with laces, ribbons, buttons and hooks, it's obvious why the display required extra time and care.
"Victorian Secret" depicts lingerie of the 1800s and early 1900s, which was meant to both cover and accentuate a woman's curves. Women wore several layers of undergarments that completely covered their skin and at the same time intensely exaggerated their ample busts and hips and tiny waists. Corsets were pulled tightly around a woman's body, creating some medical problems related to wearing the pieces.
"All their organs were smashed in and down," Crawford said. "We saw a picture of it when we got the display, but it was too much to put out. It looked just awful, and I'm sure women had complications from wearing (corsets)."
In the 19th century, Crawford said, women went through a time-consuming process to get dressed. First, they put on silk or linen pantalettes, which looked like today's crop pants. Then a dress-like chemise was put on over the pantalettes. Over that, they would fasten and lace up the corset. Next came the petticoat – a long, full skirt – to fill out the bottom of the dress. The number of petticoats depended on the season, with women wearing as many as six petticoats during winter. The women would then add a hoop skirt or bustle to give a dress added volume.
"I can't imagine how long it actually took to put all that on," Crawford said.
Crawford said the extensive dressing process sparked the world's first open-crotch pants – a pair of which is on display in the exhibit. Women found it nearly impossible to lift all their layers to go to the bathroom.
"People just didn't know any better," she said. "Who knows what we're doing now that people will think is crazy in the future? Everyone just does what they know."
As the "Victorian Secret" display explains, Mary Phelps Jacob patented the first bra with separate cups in 1914. Jacob was inspired to make the brassiere in 1913 when her corset's whalebones protruded above one of her evening gowns. She fashioned a makeshift bra out of two handkerchiefs and some ribbon. The bra gained popularity quickly among women tired of tight corsets.
Since Jacob's day, women's lingerie has evolved to keep up with trends. The exaggerated hourglass shape gave way to the flat-chested, narrow-hipped flapper, which turned back into modern-day appreciation of feminine lines.
"It's interesting how we still try to achieve those curves," Crawford said. "Women still want that hourglass figure, with a narrow waist. I'm definitely glad things have changed, but when you think about it, some things are still the same."
The "Victorian Secret" exhibit will run through the month of May, and visitors are welcome during the museum's regular hours – 9 a.m. to noon Tuesdays, 1 p.m. to 4 p.m. Thursdays and 9 a.m. to 2 p.m. Saturdays. For more information, call (913) 724-4022.