BLHS

seniors say goodbye at graduation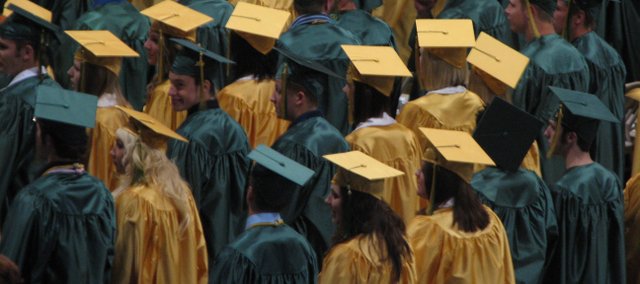 Basehor-Linwood High School faculty and staff said goodbye to the Class of 2009 on May 14.
The 131 seniors donned green and gold caps and gowns that evening and walked across the stage to receive their diplomas.
Basehor-Linwood High School principal Sherry Reeves opened the event by thanking the Basehor-Linwood Board of Education for giving her the opportunity to be principal at the high school. She also thanked the students sitting before her.
"You have touched my heart," she told the seniors. "I am a different person than I was three years ago when I met you. The Class of 2009 has left a footprint in Basehor-Linwood history."
Reeves said she envied the students for the opportunities that awaited them, and she told them to go forward with an open mind.
"Explore all possibilities, dream big and discover your unique gift to the world," she said.
The five class valedictorians also spoke at the ceremony, along with one other chosen senior. The students reminisced about their four years in high school and gave their classmates some advice for the world ahead.
Valedictorian Lucas Turner talked about freshman year, a year of unknown possibility. He passed a little of Dr. Seuss' wisdom to his peers.
"'You have brains in your head, you have feet in your shoes, you can steer yourself in any direction you choose. You're on your own, and you know what you know. You are the guy who will decide where to go,'" Turner quoted from Seuss' "Oh, the Places You'll Go!"
"Decide wisely," Turner added.
Heather Carmitchel, another valedictorian, talked about sophomore year, describing it as the "forgotten year."
"This is a time where you're in between," Carmitchel said.
She then pointed out several memorable events that took place sophomore year, such as getting driver's licenses.
"Remember the well-known years, but also remember the overlooked years," she told the students.
Valedictorian Amber Jeannin led the seniors back through junior year, the first year they could go to prom. She said junior year was a time when they could focus on themselves, a time when they weren't yet ready to be seniors.
Jessyka Coulter talked about senior year, the students' final year in the Basehor-Linwood school system.
"For some, senior year is sad," Coulter said. "For others, it's another opportunity. Take this opportunity to make something of yourself, but remember to be gracious."
Thomas Pedroza was the final valedictorian to speak. He wished all the graduates the best of luck with their future goals.
The final speech was a first in Basehor-Linwood history. One student was selected to give a senior address. This year, Nathan Hopkins was granted the honor.
"The last four years have been amazing," Hopkins said. "High school is a time to discover who you will be, and these days will be with us forever."
Hopkins closed by telling his peers they were capable of changing the world, and they should grab the chance to do just that.
"Carpe diem. I'll miss you guys. God bless," he said.