D.A.R.E.

graduates celebrate safe choices at annual festival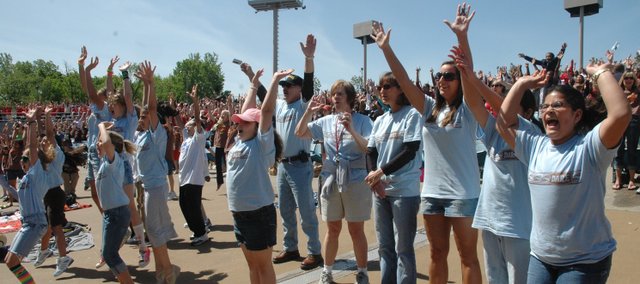 It has only happened a couple times in the last 11 years, but the D.A.R.E. festival on Thursday at Capitol Federal Park at Sandstone had perfect weather.
"This year was actually the best or in the top three of all time D.A.R.E. festivals," said Bonner Springs Police Department Detective Patrick Budy. "We had perfect weather, which we normally don't. The performers were great. I think the kids really enjoyed it."
More than 3,000 students, representing about 60 schools from Kansas and Missouri descended on the Bonner Springs amphitheater to celebrate their graduation from the D.A.R.E. program and make a pledge to remain drug, alcohol and violence free.
The D.A.R.E. festival was started 11 years ago by Bonner Detective Vickie Fogarty. Each year a committee filled with members from Leavenworth County, Kansas City, Mo., and Kansas City, Kan., plan an event to bring D.A.R.E. students together to celebrate their commitment to good choices.
"(The festival) is a celebration, and it reinforces the choices they make," Budy said. "(Students) get to hear from role models that are older, some successful, stating that you can remain drug, alcohol and violence free and still be a success and enjoy life."
Budy said the response he got from participants of this year's festival were all positive. He said everyone seemed to especially enjoy the performances.
Jordan Pruitt, a teen pop star who has performed in several Disney shows, headlined the festival. Also performing was Out of Here, a band with two police officer members, Alan Bradley, a Kansas City, Kan., firefighter, Power and Life, a band from Leavenworth High School, and several other local acts. Retro Bill, a national safety spokesman for D.A.R.E., emceed the event.
In between the musical acts, Retro Bill spoke with the students about staying drug and alcohol free. Budy said the goal of the event was to give the students a fun activity while reinforcing D.A.R.E. teachings.
Because Budy is retiring as the Bonner D.A.R.E. officer after nine years, he said this year's festival was extra special. But it won't be his last. He said he plans to return to participate.
"I'll be back to help with it. There's a lot of work involved, but it's a good time," he said.