Five questions: Time for a trim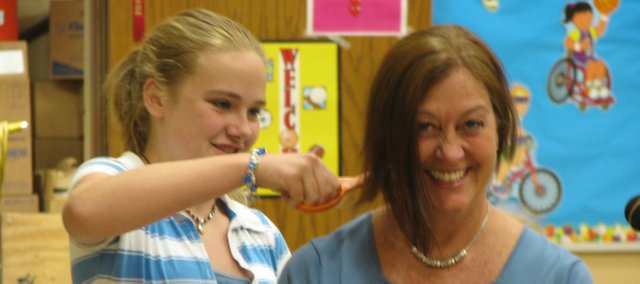 Q: How did you come up with the haircut idea?
A: I wanted to motivate the students to read during the second semester to beat their first semester totals. I thought it would really get their attention and encourage them to complete their goals.
Q: How did you determine which students would be able to do the cutting?
A: The Accelerated Reader committee totaled the number of AR points for each class. The class with the most points was determined, then the students meeting their AR goals (no lower than 90 percent accuracy on the quizzes) every quarter this year were invited to cut. I have very thick hair, so once the eight students from Mrs. Murphy's class made their cut, we were able to pick one student from each grade who had also made their goal all four quarters.
Q: Which students were selected to hold the scissors?
A: Mrs. Murphy's Sixth Graders: James Blauvelt, Kennedy Bowers, Jacob Cook, Elizabeth DeWitt, Madison Howard, Aly Levison, Jade Provence and Daniel Tady.
Q: How long had you been growing your hair?
A: This school year. It grows very fast. I decided it was something I would be able to do to help children in need of a wig due to medical issues.
Q: Any ideas for a reading reward next year?
A: I have been known to do many things in my 28 years in education. Besides kissing a pot-bellied pig, dressing the part and singing as Tina Turner to "Proud Mary," kissing a frog, camping out on the top of the school overnight, I will be spending my summer thinking of an exciting reward for the 2009-10 school year.