Leavenworth County honors Basehor officer with annual award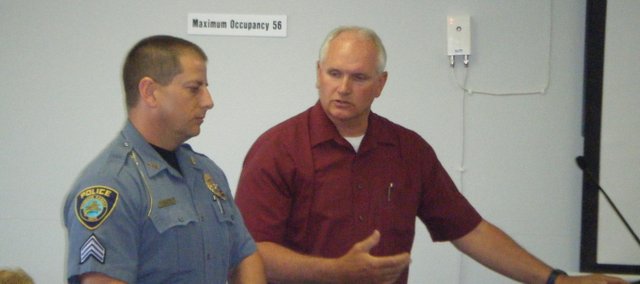 A member of the Basehor Police Department was named Leavenworth County Officer of the Year.
Sgt. Greg Hallgrimson received the honor at the county's annual award ceremony on May 11.
The award came as a surprise to Hallgrimson, because the name of the recipient was not announced until the end of the ceremony.
"I had absolutely no clue I was getting it," Hallgrimson said of the award. "I knew I was getting a citation for bravery, but this I had no idea about."
Hallgrimson was also recognized at Monday night's Basehor City Council meeting. Basehor Police Chief Lloyd Martley introduced Hallgrimson to the council and told members about his recent distinction.
"We are very proud," Martley said of Hallgrimson. "This is the first time a Basehor police officer has received this honor, so we're really happy about it. It's a great accomplishment."
Hallgrimson credits his success to his superiors at the department. He said he owed a lot to the people who helped him during his six years as a Basehor officer.
"Much of this is due to the people who trained me," Hallgrimson said. "My fellow officers, and my chief helped. It makes a difference that we have a great chief. He makes me want to get up and go to work each day and do the best I can."