VFWs unite to honor Loyalty Day, armed forces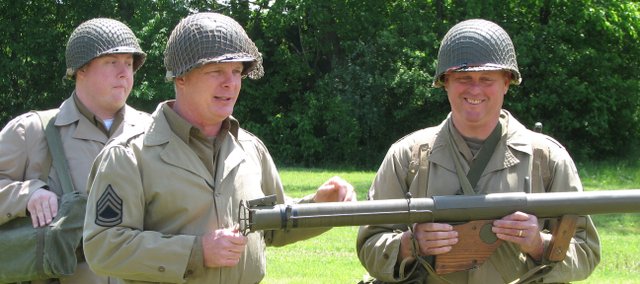 The Basehor and Bonner Springs Veterans of Foreign Wars dedicated a day to those who have served and are serving in the United States military.
Basehor's Bob Wiley Memorial VFW teamed up with the Olsen-McGraw-Thompson-Goins VFW of Bonner Springs to present a series of events on Saturday in honor of Loyalty Day, a salute to the armed forces.
The day began at 8 a.m. with an opening ceremony led by Basehor and Bonner Springs VFW Commanders Fred Box and Don Norman. Basehor Mayor Terry Hill and Bonner Springs Mayor Clausie Smith came together to present a Loyalty Day proclamation to the cities they oversee. Throughout the rest of the day, visitors watched living history displays and weapons presentations by veterans and active military personnel.
A memorial service also took place in which Second District Chaplain Jim Jenkins gave words of remembrance and thanks for departed comrades.
"I'm sure we all know someone who served in the military and has passed," Jenkins said. "We dedicate this day to all those who have served and given their all."
After a moment of silence, a trumpet sounded with the playing of the taps. All those present bowed their heads and listened to the familiar somber tune.
"Never have 26 notes meant more to those who served and who have fallen," Jenkins said. "Today, we give thanks to those brave men and women, and we honor their memory."
Hill said a few words about the Loyalty Day events during Monday night's Basehor City Council meeting. He said he was happy to have attended.
"It was certainly a heart-wrenching day for me and my wife, and we enjoyed every bit of being there," Hill said. "It was a special day ... I really encourage everyone to attend next year. It's such a rewarding thing."
The day was a success, Box said. About 150 people came throughout the day.
Box said the VFW planned to organize another day to observe next year's Loyalty Day. He also encouraged everyone to come to the post's Memorial Day service at noon Monday at Glenwood Cemetery.