Bacon Explosion featured at
BBQ

festival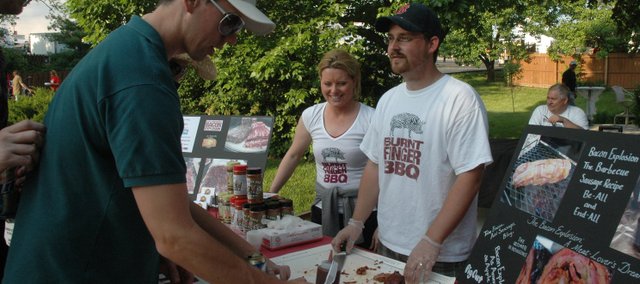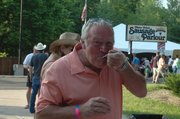 The Bacon Explosion – a carnivorous medley of bacon, sausage and barbecue – has inspired nationwide media coverage and a future recipe book, "BBQ Makes Everything Better," to be released next year by Aaron Chronister and Jason Day.
The Kansas City, Mo. natives are two members of a three-member team, going by the name of Burnt Finger BBQ, which is competing in this weekend's Great American Barbecue Festival at the Capital Federal Park at Sandstone. The festival, which started Friday and will run through May 24, brings in competitors and visitors from all across the country.
"It is a perfect blend of sausage, bacon and barbecue," Day said of the bacon-wrapped, bacon-stuffed sausage roll he and Chronister invented in about an hour last year. The two have since built a small but now nationally-renowned business out of their creation called BBQ Addicts. "It's a lot of all of (those ingredients), but it's not as scary and overwhelming as it looks."
The Bacon Explosion had its first product launch, where Day and his wife Megan offered free samples, at Friday night's featured Barbecue Festival event, the BBQ Blues Party. The event appropriately kicked off the weekend of barbecue contests, food, carnival rides and music with food catered by Oklahoma Joe's Barbecue, blues music and, of course, a sampling of Day and Chronister's creation.
Before the blues party, Day had predicted that people would love the Bacon Explosion and, as it turned out, he was right.
"This is unbelievable," said Brad VanEss, of Las Vegas, after taking a bite.
"It was very good, and we're actually gonna buy one to take home," said Graham Giblin, of Kansas City, Mo.
Gates opened at the Barbecue Festival at noon Friday afternoon, where participants could enjoy music, a kid zone and an array of vendors selling everything from barbecue brisket to a reading of the future in the palm of one's hand.
An apps, wraps and wings contest was also held throughout the day. About 60 teams competed to make their own versions of appetizers, wraps or wings that were judged on texture, presentation and taste. The judging was held around 7 p.m. Friday night and an awards ceremony, where winners will be announced, is scheduled to happen around 5 p.m. tonight. An awards ceremony for this morning's Kidz Que, a series of two barbecue contests for children ages five to 15, will be at 4:30 p.m. tonight.
Held at the Woodlands Racetrack for the last four years, this is the first time Sandstone has been the chosen location for the Great American Barbecue Festival. Executive director of the event Tracy Satterfield said hosting the barbecue event at Sandstone gave a truer meaning to the word "festival."
"It's been fun to see (the barbecue competition teams) come in and say, 'Wow! I didn't realize how many parts of the facility there were,'" she said. "It lends itself to a good festival feel."
Throughout the weekend, more featured events of the Great American Barbecue Festival will include the Royal Oak Invitational contest and judging, going on today, and the Kansas City Barbecue Society open contest, going on Sunday.
Burnt Finger BBQ will be one of 170 teams competing over the weekend – Day, Chronister and the third team member, Bryant Gish, will compete in the KCBS open contest – but Day said he wasn't too worried about gaining a winning spot.
"You gotta go in confident," he said.
The entrance fee to the Great American Barbecue Festival is $10 per day, with all proceeds going to five Kansas City-based charities, including the Wyandotte County Parks Foundation and the Fox 4 Love Fund. For more information and a complete listing of bands and events, visit thinkbbq.com. A recipe of the Bacon Explosion can be found at bbqaddicts.com.
Find out more of what happened at the Great American Barbecue Festival in next week's issue of the Chieftain, out May 28.