Students, staff say goodbye to principal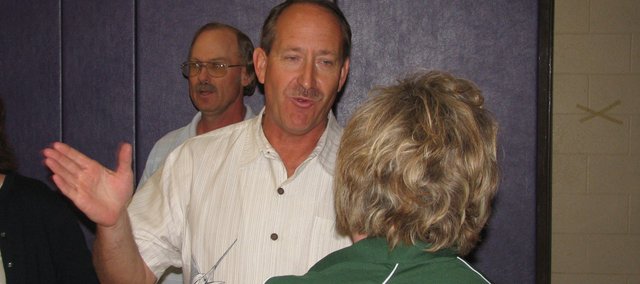 Basehor-Linwood Middle School principal Mike Boyd had quite a surprise May 21.
As he walked through the school's gymnasium doors that morning, a crowd erupted into cheers and applause.
Boyd's students, staff and faculty and Basehor-Linwood Board of Education members were waiting for him in the gym as part of an assembly celebrating his 17 years as middle school principal.
"It was a huge surprise," Boyd said. "I had absolutely no idea they were planning it."
This is Boyd's last year at the middle school because he is moving up to become the Basehor-Linwood School District's assistant superintendent. He is replacing David Howard, who will become superintendent July 1, when Robert Albers retires.
Basehor-Linwood athletic director Tom Cooper said students and staff organized the assembly to show Boyd their appreciation.
"We just wanted to do something for him before he leaves," Cooper said. "It (was) a way to say 'thanks.'"
Boyd said he was thrilled with the honor.
"It was pretty gratifying," he said. "You see those people every day, and you just don't expect something quite like that to happen."
The people he saw each day in the halls, offices and classrooms were what made his time as principal special, Boyd said.
"We have some neat people in that building," he said. "The teachers and students, they made this experience worthwhile, and we're very fortunate to have them."
Though he will miss being at the middle school, Boyd is ready for his new position in the district. He said he was planning to continue the work Howard and Albers had already done, and he was anticipating a smooth transition into the role with Howard's guidance.
One of his points of focus, he said, is making the district more progressive and strengthening the staff and district as a whole. The district is doing well now, he said, and he wants to keep it that way.
"The people here are great, and they get along well together," Boyd said. "Our test scores are good, and we're opening new schools that will enhance the district. I think we're in pretty good shape."
For the middle school staff, students and friends he has made along the way, Boyd is grateful.
"I appreciate everyone's efforts while I've been principal," Boyd said. "I've really enjoyed working with everyone."