Despite clashes, son followed father into service
In 1970, Jim Martino said his relationship with his father in their Kansas City, Kan., home was like many in those tumultuous times.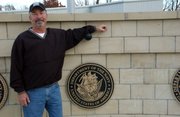 Part of the tension developed over the political landscape that separated the generations in the Vietnam era. Martino remembers a heated argument with this father after the Kent State anti-war demonstrations that left four students of that university dead.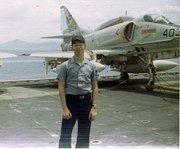 Other aspects of his difficulties with his father were ageless. The father expected those living in his house to follow his rules, and the son was eager to get out on his own. Martino was particularly anxious to quit school after a year at Johnson County Community College, against his father's wishes.
"College wasn't for me," Martino said. "And I wanted to get out of the house."
But there were few options. There were no jobs to be had because potential employers feared he would soon be drafted.
Despite the then rocky relationship, Martino did respect his father's service in the Navy during World War II. It was a tradition of patriotism and service that also included his four uncles, Martino said.
"I made the decision that was right for me," he said.
The first half of his four-year enlistment was spent as a rescue swimmer at a now-closed Navy air station in Beeville, Texas, Martino said. That involved near daily training helicopter flights over the Gulf of Mexico and surrounding flatlands in support of novice pilots learning the complexities of landing on a carrier deck. The crew also helped with civilian rescues, including those in low-lying areas along the Gulf during hurricanes.
He enjoyed the assignment because of the daily flying opportunities, but he was anxious to fulfill the promise of the Navy recruiting slogan.
"I joined the Navy to see the world, and that kind of defeated the purpose," he said. "I volunteered to go to Vietnam. I wanted to go there."
Martino got the chance when he made the rank high enough to earn reassignment to the U.S.S. Hancock, a refitted World War II-era aircraft carrier that saw service in the Gulf of Tonkin off Vietnam throughout the long war.
When Martino came aboard the Hancock in 1972, the carrier was again rotating in and out of duty off Vietnam.
Pictures Martino has of his time aboard the carrier show him and his friends relaxing on the flight deck when not on duty.
That relaxed atmosphere changed when the Hancock arrived in Yankee Station, the Navy's term for the northern carrier war zone off Vietnam. From there, jets from the carrier flew missions into North Vietnam.
"It got very intense," Martino said. "We had 12 ons and 12 hours off.
"We worked all the time. We maybe had three hours for sleep. It was OK. We were all young."
Twelve hours on meant half a day in the fighter squadron air frame shop he supervised. Twelve hours off meant assignments to do such tasks as to stow shipments of ammunitions or supplies from support ships, Martino said.
His shop was responsible for the maintenance other than the engines and electronics on a squadron of F-8 Crusaders. But Martino said the shop maintained all the near 80 aircraft on the carrier. The jets' combat role and carrier duty kept the shop busy.
"Landing a jet on a pitching carrier deck is a lot different than landing on a long airfield somewhere," he said. "Navy pilots are the best in the world."
Even with the skills, the jets took a beating from the landings and the missions. His shop crew took pride in keeping the fighters in fighting shape and giving the pilots the best chance of survival.
"The pilots respected us, and we respected them," he said. "We lost one pilot when I was there.
"When you lost someone, it became very somber onboard. The whole mood changed."
Martino left the carrier in 1974. A year later, he could watch as the carrier was part of America's last chapter in Vietnam, the infamous evacuation of Saigon as North Vietnam troops captured the city.
"Those pictures of helicopters being ditched in the sea to make room for refugees, that was the Hancock," he said.
Martino said his role in the war was one of duty. In many ways, Martino's noncombat role was typical of Americans who served in Vietnam. In all, 543,000 Americans served in Vietnam, but only 12 percent, or 80,000, had a combat role.
But whatever their role, the young veterans were greeted with the same attitudes of indifference or hostility when they returned to the states.
"There wasn't the respect of those who served in Iraq or Afghanistan," he said. "My friends didn't understand why I wanted to serve in the military."
One relationship did change.
"It was like night and day with my dad," he said. "He respected what I did."
He returned to an economy in a recession, Martino said. Shut out of aircraft mechanic jobs except for a poor paying position in Oklahoma, he again followed in the father's footsteps and became a sheet metal worker.
His military background gave him a leg up in his apprentice class, both in knowledge and attitude, Martino said. He was made a supervisor soon after his apprenticeship ended and worked his way up to an office position before retiring three years ago.
"It taught me leadership and how important it was to get things done as a team," he said of his Navy experience.
Martino married into a De Soto family, a marriage he jokes of a Wyandotte County Democrat to the Johnson County Republican. He now lives in Basehor. He's patriotic, he said, defining that as voting, being strong for his union and supporting men and women in uniform.
"Not always the leadership or decision-makers, but I'm always behind those who do the fighting and the work," he said.
His time aboard a carrier at war made him appreciate the work and sacrifices all those in the military made in the nation's recent and current conflicts, Martino said.
"I know what they are going through," he said. "I wish I could be over there with them."
Like his in-laws, Martino became active in De Soto VFW Post 6654. He served as quartermaster when it grew from about 80 members to more than 300 by embracing Gulf and Iraq war veterans.
"I glad we're giving them the respect they deserve," he said. "I'm happy Vietnam vets are now getting respect."