Green Beret continues to give back to country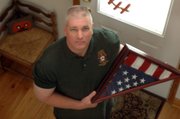 As Eudora resident Mark Johnson speaks passionately about his experiences a Special Forces Green Beret, he sits comfortably in a recliner. The comfort is not lost on him, as he spent the better part of his 20 years of service in discomfort throughout the world.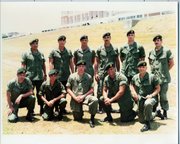 "I emphasize and accentuate the positive more; I take pleasure in the ordinary," Johnson said. "Going out to get a hamburger and milkshake — those ordinary pleasures to me are wonderful. I think that's one of the things my wartime service taught me."
During the first Gulf War, Johnson was an operations officer for the Special Forces battalion.
After Saddam Hussein invaded Kuwait in August 1990, Johnson led a series of deep reconnaissance missions doing border surveillance and also did long-range reconnaissance to aid in the air war in 1991.
For those actions, he was awarded the Bronze Star.
"I was lucky enough to be decorated, but the people around me deserve all of the credit," Johnson said.
Johnson retired with the rank of lieutenant colonel about nine years ago.
Since then, he has authored the books "How To Get Anyone To Follow You Anywhere: Green Beret Secrets to Leadership and Team Building" and "Lessons in Leadership: Straight Talk from a Green Beret."
He also gives speeches on leadership and team-building to various businesses and groups.
Johnson says his speaking engagements are one of the ways he is able to give back, especially when his audiences are groups of veterans.
"There's an instant rapport and bonding because of that war experience," Johnson said. "That's a really good thing, and I'm very proud to be a veteran and serve these veterans. We all served and we all were lonely, miserable and tired, so we share that bond and that's over everything else."
In 2006, he returned to Kuwait and Iraq, at the behest of Gen. David Petraeus, to teach counterinsurgency to battle staffs.
"To me, a patriot is someone who sacrifices their comfort and goes outside that box just to serve America," Johnson said. "After experiencing that discomfort, you come back with a fuller appreciation of America. But veterans aren't the only one's who do it — the Peace Corps, firefighters, police, church groups — they all serve."
Johnson's belief in a lifetime of service also lead him to teaching.
He was a professor and chairman of the military science department at Pittsburg State University for about two years.
He now teaches leadership classes at Longview Community College and Johnson County Community College. Furthermore, he assists in teaching a class at Kansas University regarding the roots and causes of terrorism.
"I feel like I'm serving by going into the classroom and passing on my life lessons to these students," Johnson said. "This is my way of still being a patriot and still serving. This isn't something you do for money, it's about giving back and serving."