Drug-free message reaches Basehor youths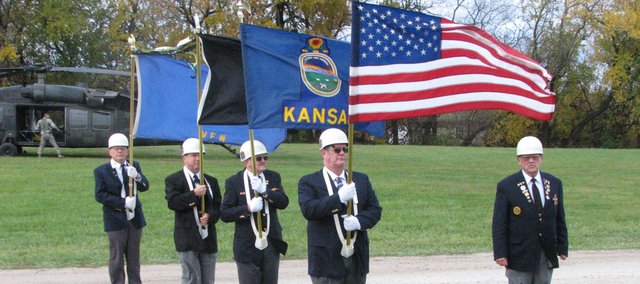 The Basehor-Linwood School District had an eventful end Friday to Red Ribbon week.
Elementary and middle school students in the district gathered that chilly morning at Basehor-Linwood High School to watch a Black Hawk helicopter land next to the football field. The Halloween costume-clad children forgot their shivering legs as the military chopper found a resting place on the grass before them.
Cheering commenced when district administrators emerged from the aircraft, smiling and waving to the crowd. The faculty and Basehor VFW then led the students in the Pledge of Allegiance and guided them into the high school gymnasium for an assembly on the importance of staying drug free.
The boisterous hum of the packed gym died down as Superintendent David Howard began speaking into the microphone.
"I've been to a lot of school districts, and I've never seen a Red Ribbon Week quite like this," Howard said. "Thank you to everyone who made this possible."
The week involved several activities in the schools that included essay and poster contests and lessons on the effects of drug abuse.
Basehor Police Chief Lloyd Martley continued the week's lessons during Friday's assembly, explaining that alcohol is one of the most prevalent and potentially dangerous drugs.
"Most people don't realize alcohol is a drug," Martley said. "Every single day of the year … teenagers die from drunk driving or other alcohol-related incidents. Alcohol distorts a person's perceptions and judgment. Don't ever start drinking, don't ever take drugs, and never, ever drink and drive."
During the rest of the assembly, students and staff were entertained with a performance from the Basehor-Linwood High School jazz band, a dance routine from the high school Dazzlers and cheerleaders and an appearance by the high school football team.
Basehor-Linwood Athletic Director Joe Keeler introduced the football team and credited the boys' 2009 season success to a series of positive decisions both on and off the playing field.
"I don't know how many of you know… but you're looking at the Kaw Valley League football champions and district champions," Keeler said over thunderous applause. "They've been able to achieve these accomplishments because they chose to do the right thing. They chose to stay away from drugs and alcohol. They are champions."
All the principals then took center stage to show off their school's winning Red Ribbon posters and read the winning essays. Each essay and poster contained a message about making smart decisions and rising above peer pressure, including the first-prize poster from Clarissa Kiefer, a second-grade student at Glenwood Ridge Elementary School that read simply, "Say 'no' to drugs, say 'yes' to tacos."