Basehor shoppers flock to weekend craft shows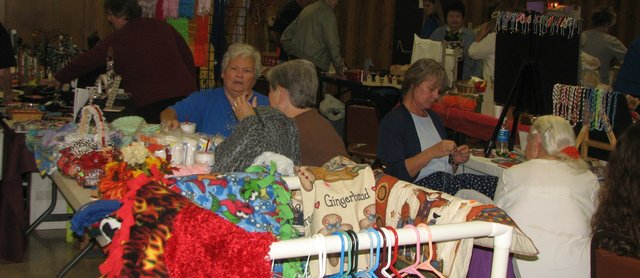 Saturday was a craft extravaganza in Basehor.
From 8 a.m. to 4 p.m. that day, Basehor community members had the opportunity to shop at two different fairs, each displaying and selling homemade items.
The fair at Holy Angels Catholic Church was possibly the biggest seen in the more than 20 years the church has been playing host to the event.
"It turned out great," said Annie Clark, co-president of the Holy Angels Catholic Women's Organization. "We were very pleased with the vendors and with the shoppers."
So many people attended, Clark said, the church had to send someone out midday for more food to serve everyone.
"Usually we have quite a bit of leftovers, but not this year," Clark said. "We had to go get more hot dogs, more buns, more lots of things."
The church had 27 vendors this year, showcasing products like jewelry, pictures, stationary and holiday decorations. One such vendor was Jacki Cahill, who said she had been coming to the Holy Angels fair for many years. Cahill had 12 different styles of crocheted necklaces when she set up her booth in the morning, and by 1 p.m., she was sold out of almost everything.
"It's been a great day," Cahill said. "I can't tell you how long I've been doing this. I started a long time ago. My daughter makes all the necklaces, and they've been selling really well today."
Just down 155th Street at Basehor-Linwood High School, the Beta Epsilon chapter of Alpha Delta Kappa was having a successful craft fair of its own.
Booths lined the foyer outside the gymnasium and spread across the gym floor presenting items such as Christmas signs, coasters, pillows and floral arrangements.
Beta Epsilon President Janice Walker said the sorority was delighted with its 26th annual fair.
"It really went well," Walker said. "We had a good turnout, and it seemed everyone was happy with everything. We really appreciate our faithful shoppers and main-stay crafters, as well as the new crafters we had this year."
Betsy Schale and Barbara Jordan displayed their paintings at the show Saturday, and as veteran crafters, they said the Alpha Delta Kappa event was both fun and fruitful.
"We've been coming on and off for years, and it usually turns out pretty good," Schale said. "Either way, we enjoy coming out and seeing everyone."
Holy Angels raised more than $800 that day, which it will use to support several organizations like Birth Right of Leavenworth and the Sister Jane Alliance Against Family Violence. Beta Epsilon closed down the fair with more than $2,000, which will go back to the community for high school scholarships and one college scholarship at the University of Saint Mary in Leavenworth. A portion of the funds will also be given to the Basehor-Linwood Education Foundation.
For more information, or to inquire about becoming involved with one of the craft shows next year, contact Marilyn Daniels with Alpha Delta Kappa, Beta Epsilon Chapter at (913) 724-1959 or Holy Angels Catholic Church at (913) 724-1665.