'

Beauty and the Beast' opens tonight
Basehor-Linwood High School's fall musical opens at 7 tonight.
Seniors Kristin Taylor and Noah Adcox will stand in the spotlight as the show's main characters, Belle and the Beast.
The musical follows the classic tale of the maiden trapped in a castle with a monstrous beast with whom she eventually falls in love. Basehor-Linwood's portrayal of "Beauty and the Beast" is sure to keep audiences entertained.
The show will run through Sunday, Nov. 15, and the cost is $5 for adults and $4 for children and students.
For a full story on the musical including comments from the cast, see the Nov. 19 issue of the Sentinel.
Photo Gallery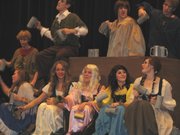 Basehor-Linwood Fall Musical