Elm Grove dedicates new building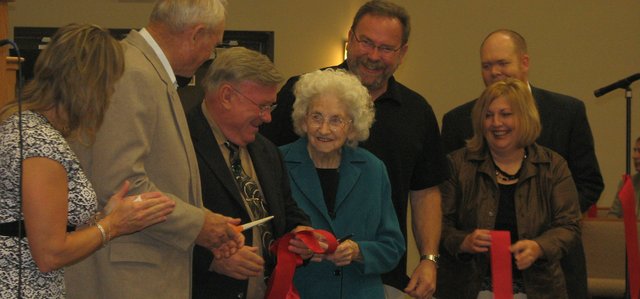 Hundreds of people flooded into the doors of Elm Grove Baptist Church Sunday to witness a much-awaited event: the dedication of the church's new $2.5 million building.
The bright faces were greeted by a newly-painted gold banner above the altar that read, "Behold, now is the day of salvation."
When the service began, hardly a seat was open. Thunderous applause rang out as Pastor Sandy Seaba walked to the pulpit for the first time.
"We are very, very blessed on this day," Seaba said.
The morning represented for Elm Grove a long, successful journey from the tiny country church it was when established by Glen and Nell Webb in 1965 on the corner of Kansas Highway 32 and 158th Street.
As he was one of the initial 1965 Elm Grove attendees, Glen Webb stood in front of the congregation of about 800 Sunday to give an opening prayer before the ribbon cutting.
After a few songs, Seaba continued to introduce guests who were present that day who made the event possible, including the contractor of the building, Don Lowe.
"It was a privilege to work on this building," Lowe said. "I didn't do it alone, though. A lot of people helped, and I'd like to recognize them, too."
Lowe called out for anyone who had worked on the building to stand, as visitors clapped and cheered.
One other person who was recognized that day was Charles Hall, a long-time member of the church who recently died.
"This church was his dream," Seaba said of Hall. "He said, 'We've got to build a place where people can come to worship the Lord.' He was one of the finest men I've ever met, and part of this great church is dedicated to him."
Several other guests and members of the church sang and spoke that day, after which Seaba gave a sermon on the importance of the Bible.
He described his own religious maturation through the years and how the Bible helped him through many troubled times, ending with a well-known children's rhyme, "B-I-B-L-E, that's the book for me."
After the service, Seaba said he was thrilled with Sunday's events.
"It was a great success," he said. "I think it was a good testimony for the community. This is a church for the community, and I think there was a great need for it."
Though he didn't expect to see 800 people coming every week, Seaba said Elm Grove was headed in a direction of growth, and this new building was a monumental step toward a bright future.
"There's only better things to come," Seaba said. "Only better to come."