5 Questions: Holiday Helping
Host serves up tips for Thanksgiving feast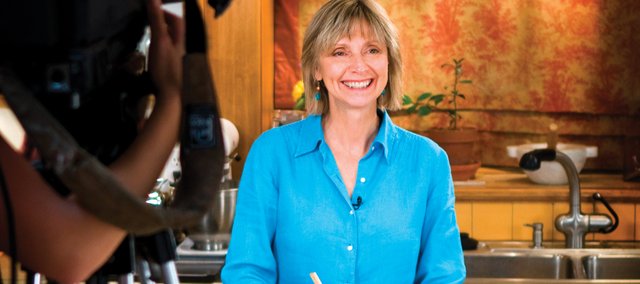 Jayni Carey, host of "Jayni's Kitchen" on Sunflower Broadband Channel 6, discusses Thanksgiving preparations.
Q: If someone is having, for instance, 10 people at their home for Thanksgiving, how much food should a host have on hand for the gathering?
A: The amounts you serve can vary depending on whether you want to have leftovers. When choosing a turkey (fresh or frozen), figure 1 to 1 1/2 pounds per person. Then prepare the traditional family favorites — dressing, gravy, sweet potatoes, cranberry sauce, pumpkin pie, etc. Think color, texture and flavor when adding other dishes to round out the meal. Thanksgiving meals tend to be rather starchy so I like to serve tender-crisp green beans or broccoli to add some crunch, and a green salad with a simple vinaigrette to add some acid to the meal.

Q: When should hosts begin preparations for a Thanksgiving meal?
A: Good planning makes all the difference! Choose your recipes a week or two ahead and do as much early shopping as possible. Take a minute to go over your recipes and see what can be made in advance to save time on Thanksgiving Day. I like to make some notes to keep me on track.
Q: What pointers do you have for readers who plan to prepare a turkey?
A: For fresh turkey, purchase it 1 to 2 days ahead and store it in the refrigerator until you are ready to cook it. If your turkey is frozen, be sure you give the bird plenty of time to thaw completely. To thaw in the refrigerator, allow 24 hours for every 4 to 5 pounds of turkey. To thaw in cold water, allow 30 minutes per pound. To ensure a perfect Thanksgiving dinner, use a tried and true recipe for roasting the bird. Save your creativity for a side dish or dessert.
Q: Do you have any additional tips for people making a holiday feast that day?
A: Planning ahead will allow the cook a more relaxed and enjoyable holiday. Ask guests to pitch in by preparing a side dish or dessert. Let others help with the clean up. Don't stress over the food. After all, Thanksgiving is about spending time with family and friends and everyone will have fun no matter how the meal turns out.
Q: Do you suggest any twists to the traditional Thanksgiving fare?
A: Yes! Tune into Jayni's Kitchen starting Tues. Nov. 17 for our upcoming show: NON-TRADITIONAL THANKSGIVING DINNER with Kathie & Patrick Nichols. The Nichols share some great alternative recipes with traditional touches including sweet potatoes, cranberry sauce and pumpkin. Their menu is great for those longing to stray from the traditional fare, or for those who must prepare a second dinner over the holiday weekend. Check out the recipes for this show on our website: www.freestatestudios.com/shows/jaynis-kitchen/