7mg band keeps friendship at the forefront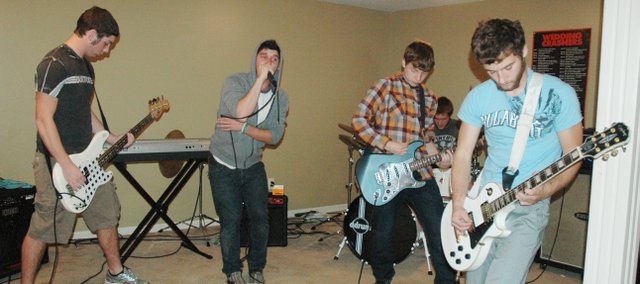 A recent battle of the bands at the Beaumont Club in the Westport district of Kansas City, Mo., has left the alternative punk band Seven Minute Goodbye reeling from the high of a round-one victory.
But the five members who comprise the group say their long-time friendship still keeps them grounded.
"We're all best friends, we've been best friends forever," said 19-year-old lead singer Seth Clements. "So we're just having the time of our lives just playing together."
All members of the group — Clements; lead guitarist Ryan Holcomb (18); bassist Brendan Martin (17); drummer Kabes Bailey (17); and rhythm guitarist Liam Martin (15) — live in the Lake of the Forest housing development in Bonner Springs. They say they bonded over playing music together, and began taking this mutual hobby more seriously in about sixth grade.
"We were like, 'This is fun, but let's just try to go somewhere with it,'" Clements remembers.
Now the group, known by the moniker 7mg, has a six-song demo to its credit, as well as successful performances at both the Beaumont, where the group competed Oct. 4 against nine bands to win 20 hours of studio time at Chapman Recording in Lenexa, and at the Granada for the Exposure Music Festival on Oct. 17, where 30 bands were featured. Clements said both were shows the band was approached to do by the production companies for each gig through its MySpace and Facebook pages.
"It was really cool," Clements said of being asked to perform instead of it being the other way around. "It's like, somebody's taking note."
In preparation for the final round of the Beaumont battle of the bands in January, the band members are working on new material and developing what they say is a new, and more mature sound. The band's influences are punk forerunners like Blink-182 and Green Day, and much like these bands have done during the course of years and studio albums, 7mg is ready to evolve.
"Our music's definitely developing," Clements said. "I think it's just, we kind of slowed it down and made it more musical as opposed to just fast … Our lyrics and song content is still fun — you know, like girls, having fun with our friends, parties and stuff. But the … music's just getting more complex. It used to be power chords and eighth notes, but now it's melodies and different time signatures."
Of the round-one victory at the Beaumont, where winning spots were based entirely on crowd applause, the band members say they were more than surprised.
"I had to ask the guy a second time, 'Did we win?'" Holcomb said. "And then when we found out, I was pretty stoked. I felt like a big guy."
The members see it as both confirmation that 7mg is a band to contend with and as a reminder that there is more work to be done as they move forward.
"We worked really hard to do it so it was like kind of an accomplishment," Clements said. "Because we worked for it, we got it, and now we're like starting the process over for the finals and hoping to win that one, as well."
Like almost any band that forms, the sought-after dream is one of musical stardom, and 7mg is no different. Clements said he knew this eventuality was one that may stay in the realm of wishful thinking, but was still one that was worth working toward.
"We realize the odds are against us," Clements said. "We all know that it's unlikely, it's probably not gonna happen, but we're still working hard to make it happen."
No matter what eventually happens with 7mg, Clements said the overriding focus would always be on the friendship.
"In it to win it, stick together until the end," he said. "We're best friends, we all love each other … we have it all planned out to where we can just make it work."
To hear songs and to get more information about 7mg, visit myspace.com/7minutegoodbye. The exact date of the final round of the battle of the bands 7mg will compete in has yet to be announced.