Belle of the ball
Basehor High School musical brings to life age-old tale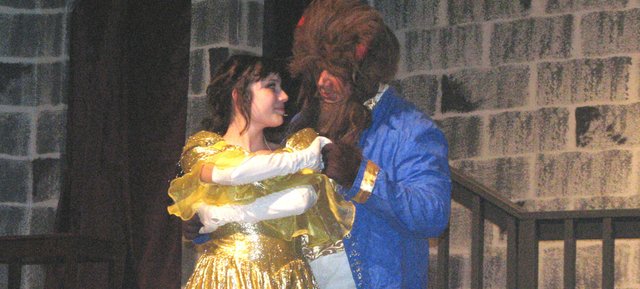 With a tale as old as time and a song as old as rhyme, a classic Walt Disney flick came to life this weekend in the Basehor-Linwood School District.
Basehor-Linwood High School opened its fall musical, "Beauty and the Beast," Oct. 12 with a cast of 60 students. The tale of a beautiful young woman striking a deal with a monstrous beast and breaking an ages-old spell with love has been captivating audiences for decades. Director Rebecca Knowles says the production is the biggest and best the high school has ever done.
"I'm extremely excited to see it all coming together," Knowles said before opening night. "(The students) have worked so hard."
Nine weeks of practice came to fruition on the stage, with the cast members taking on the persona of well-known characters like Belle, the Beast, Mrs. Potts, Chip and Gaston and recreating memorable scenes such as Belle's first hospitable meal in the castle and the Beast's remarkable transformation into a fetching prince.
Playing Belle in the musical was senior Kristin Taylor, who said her role meant the fulfillment of an awaited dream.
"I really, really wanted it," Taylor said of her drive to land the part. "Belle has always been one of my favorites, and it's been amazing playing someone as strong as her, someone who is the epitome of goodness. Everyone wants to be Belle."
To prepare for the spotlight, Taylor put in many extra hours of practice outside those in school, working with an acting and singing coach to make sure she showcased her talents while perfectly capturing the gentle yet powerful essence of Belle.
"It's been a lot of hard work," Taylor said, "but I've really enjoyed it."
The Beast is not quite as transparent as Belle, says senior Noah Adcox, who played the character.
"What a lot of people miss about the Beast is he is extremely depressed," Adcox said. "He really is battling so much depression, and it's been difficult to get into that character and come out of it within the span of the show. When everyone's moving around on and off stage, I'm still in character, and it's hard to get myself that depressed."
Adcox's realistic growls and downtrodden stature convey a creature that is not only miserable but also misunderstood.
Though striving to maintain the Beast's sullen disposition, Adcox said he had a great time being around the other cast members each day during rehearsals.
"I love hanging out with all my friends here," he said. "That's really been my favorite part."
The show was a hit, Knowles said, and the students have much of which to be proud.
"The students did an amazing job," Knowles said. "They just seemed to get better and better every night. Of course, I'm a bit biased, but I believe this was the best musical we have ever performed at BLHS!"
Photo Gallery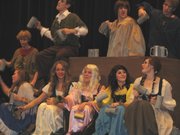 Basehor-Linwood Fall Musical